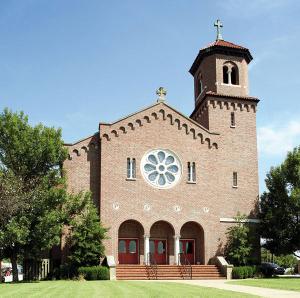 Clergy
Pastor: Rev. Matthew T. Hardesty
Pastoral Staff
School Principal: Jo Renee O'Bryan
Business Manager: Stacie Mudd
Administrative Assistant: Tonia Greenwell
Mass Schedule
Sundays — Sat evening: 4:00 p.m.; Sun: 11 a.m.
Holy Days — See bulletin
Daily — Tue-Thu: 8:45 a.m.
Extraordinary form is offered on a monthly basis, Holy Days and when Solemnities fall in the middle of the week (see bulletin for more details)
Reconciliation
Saturdays — 3-3:45 p.m.
Sundays — 10:30-10:45 a.m.
Any time by appointment
History
When Catholic settlers migrated to New Haven, Mass was celebrated irregularly in a small, rough-hewn log house belonging to the Bowles family. When no priest could come, Catholics journeyed many miles to Holy Cross for services, carrying their shoes to protect them from the rough country roads.
As the number of Catholics grew, and the area became a bustling shipping port, the congregation outgrew the log house. Services for worshippers of every faith were moved in 1804 to a large warehouse built to store commodities and bacon. The jockeying for this warehouse space soon caused a competition, and the Catholics won the right to worship there after the priest bested the Protestant minister in a debate. New Haven's Catholic population continued to grow, and in 1845 the first pastor, Father Robert Abell, arrived. He constructed the first Catholic church and a rectory.
The second pastor, Father Francis DeMeulder, was known for his humility and simplicity. After the Civil War, he built schools for the Catholic African-American and white children. He also built a convent for the Sisters of Loretto, who came to New Haven in 1868 to teach at the parish's two segregated schools, and he constructed several log cabin churches.
In 1886 a grand church was erected, modeled on St. Peter's Basilica in Rome. After it was destroyed by fire in 1928, the present church was built in 1929.
In the 1920s, a storage building was remodeled and furnished for a high school (closed in 1971), and the Ursuline Sisters of Mount St. Joseph replaced the Loretto Sisters. In 1929, the present school building was constructed to accommodate both the primary and secondary levels.
Spiritual ministries include a novena to Our Mother of Sorrows, begun during World War II, and first Saturday devotions honoring Our Lady of Fatima, begun in 1951. With 925 parishioners, St. Catherine continues to be the community's backbone with an elementary school and community outreach ministries.