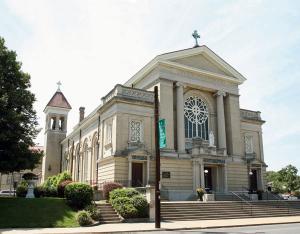 Clergy
Pastor: Rev. Gary T. Padgett
Permanent Deacon: William P. Tribbey
Pastoral Staff
Director of Worship and Music: Phil Hines
Wedding Coordinator: Elizabeth Tribbey
Parish Manager: Mark Shircliffe
Bookkeeper: Adelaide Hess
Administrative Assistant: Paula Rich
Mass Schedule
Sundays — Sat evening: 5 p.m.; Sun: 8 a.m., 10:15 a.m.
Holy Days — Vigil: 5 p.m.; Holy Day: 12 noon
Daily — Mon–Fri: 12 noon
Reconciliation
Saturdays — 4–4:30 p.m.
History
St. Brigid began its mission in 1873 as St. Bridget's, named in honor of St. Bridget of Sweden.  At its origin, it served residents, many of Irish birth or descent, in an area called "the hill."  Father James Ryan served as the first pastor.  The original church was located on the east side of Baxter Avenue between Payne and Roger Streets.  Father John Cleary, started a school in the church building in 1874.  Teachers at St. Brigid included members of three congregations of religious, the Sisters of Loretto, Dominicans of Saint Catharine of Siena, and the Sisters of Charity of Nazareth, and many lay instructors during its ninety-nine years of operation until 1973.
In 1887 the parish pastor, Father Henry Connelly, changed the patroness to St. Brigid of Ireland and the spelling of the parish name to St. Brigid.  Outgrowing the original small church, the parish selected a new site for its house of worship in 1890 at the corner of Baxter and Hepburn Avenues.   The church occupied the first floor of the new brick building and the school moved to its second floor.  The building was made possible in part by "a goodly sum" contributed by its parishioners, according to the Catholic Advocate.
The present church was dedicated on the same site in 1913.  Its architecture is French Renaissance Romanesque, featuring many stained glass windows and paintings and a Pilcher organ in the choir loft.  A separate school building and convent were also constructed at that time.  Following the school's closure, the building housed the Archdiocesan Catholic School Office for some time.  It was sold and converted to apartments in 1994.
St. Brigid joined St. James in a two-parish cluster in 1994.  The two parishes collaborate in outreach programs, including the St. Vincent de Paul Society, Highlands Community Ministries, Dare to Care, and many other charitable endeavors in the community; also with other area churches in Habitat for Humanity. They share staff, but operate independently, and neither parish has lost its identity.