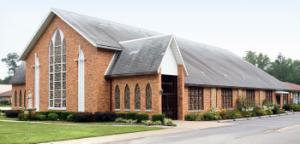 Clergy
Pastor: Rev. Charles D. Walker
Permanent Deacons: Michael L. Edwards, Philip L. Hettich
Pastoral Staff
Pastoral Associate: Denise Meyer
Faith Formation Coordinator: Cyndi Marlow
School Principal: Julie Perdue
Youth Minister: Carly Willman*
Director of Worship/Music: Open
Business Manager: James Parr
Bookkeeper: Cara Duvall
Secretary: Jennah Duke
Mass Schedule
Sundays — Sat evening: 4 p.m.; Sun: 8:30 a.m., 11 a.m.
Holy Days — See bulletin
Daily — Mon, Tue, Fri: 8:15 a.m., Thu: 6:30 p.m.
Reconciliation
Offered prior to each weekend Mass time.
History
Ground was broken for St. Bernard Church, named for the patron saint of its first pastor, Father Joseph Bernard Glick, on March 15, 1964. The cornerstone was set on July 5, 1964. The elementary school opened in the fall with 423 students; a convent was completed in 1966. In 1969, the school received an annex. Renovations in response to the Second Vatican Council were made to the church in 1975. The parish hall went up in 1978, and a second church renovation took place in 1992.
In 1990, after twenty-four years, St. Bernard Convent became vacant and was renovated to accommodate the Adult Day Center of the Fern Creek/Highview United Ministries. An Education and Formation Center was completed in 1997, and a full time kindergarten, a pre-school program, before-school and after-school, and summer care programs were added. Sports programs for boys and girls grow every year.
The parish was established to accommodate the growth of suburban Jefferson County and the large number of families who were employed by the General Electric Company.
St. Bernard was established during the turbulence of the 1960s and the changes within the Church from the Second Vatican Council. The atmosphere of change did much to forge the nature of St. Bernard Parish, as diversity of opinion led to tolerance, which tempered by Christian love, evolved into a sense of spiritual unity centered around the celebration of the Eucharist. The parishioners managed to set aside turmoil and worries as they gathered around the table set by the Lord. This unity in the Mass is the glue that has bonded the individuals in this Highview neighborhood into a community of faith. Today with 3,000 parishioners, St. Bernard is a parish alive in stewardship and very active in social justice and community ministries.