Saint Bernard Clementsville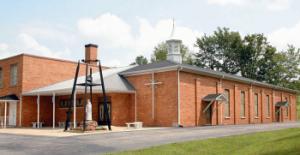 Clergy
Pastor: Rev. George Otuma, A.J.
Pastoral Staff
(An asterisk by staff's name indicates that he or she is a volunteer and cannot be routinely reached at the parish office. For questions about this area of ministry, please contact the parish office.)

Director of Religious Education: Sue Goode*
Youth/Young Adult Minister: Susan Bowman*
Youth Minister: Marcus Wethington*
Bookkeeper/Secretary: Syrilla Wethington
Mass Schedule
Sundays — Sat evening: 5 p.m.; Sun: 11 a.m.
Daily — Mon, Tue, Wed, Fri: 9 a.m.
Reconciliation
Saturdays — 3:30 p.m.
History
St. Bernard Church, Clementsville, began in 1802, when seven Catholic families from Maryland settled along Casey Creek. The circuit-rider Father Stephen Badin visited to provide Mass and the sacraments, except for a brief period of Trappist presence. Hilly topography and poor roads isolated this pocket of Catholics in a predominantly Protestant area.
These farming families developed their own church and schools in Clementsville, known as the Catholic part of Casey County. Father Charles Nerinckx helped them purchase more than 400 acres (now known as the Chapel Farm) in 1810 and erect a small church, which he christened St. Bernard of Clairvaux. They built a larger church in 1892 and became a full-fledged parish in 1897, with Father John Imhof as resident pastor.
Two schools had brief lives in the 1820s. In 1907, Father Alphonsus O'Shea and several lay teachers began another, where students were educated for six decades until declining enrollment caused it to be closed in 1971. The Ursuline Sisters of Mount St. Joseph led the school from 1911 to 1971.
After fire destroyed its church, the parish constructed the present church in 1950. Sacred Heart, a mission of St. Bernard, opened in 1987.
Intense bonds and a strong Catholic heritage continue among the parishioners, many of whom are descendents of those seven original families. St. Bernard continues to be the center of Clementsville's community, seeking to engage young people and invite inactive Catholics. An annual summer picnic and the area's longest-running variety and talent show promote Catholicism in a positive way.
Kentucky historian John A. Lyons commented in his Historical Sketches of the Parish of St. Bernard of Clairvaux on Casey Creek, Clementsville, Kentucky, "It is a story of hardy pioneers and their descendants, of valiant missionaries and their successors, whose labors form one of the most interesting chapters in the history of Catholicity in Kentucky." St. Bernard Parish now serves about 250 parishioners.