Saint Augustine Louisville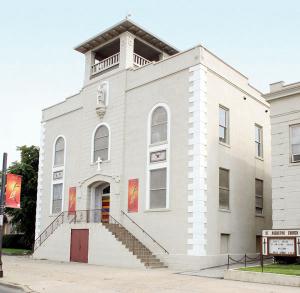 Clergy
Pastor: Rev. Christopher S. Rhodes
Senior Associate: Rev. Thomas E. Gentile
Permanent Deacon: Keith L. McKenzie
Pastoral Staff
Youth Minister and Parish Office Coordinator: Mattie Little
Director of Music: William Harris
Bookkeeper: Velma Yocum
Mass Schedule
Sundays — Sun: 12 noon
Holy Days — Call parish office
Daily — See bulletin
Reconciliation
By Appointment
Eucharistic Adoration
Fifth Sundays — 2–4 p.m.
History
Bishop William G. McCloskey appointed Father John L. Spalding, the nephew of Archbishop Martin John Spalding of Baltimore, to organize a parish for Black Catholics in Louisville in 1868, five years after the Emancipation Proclamation. On February 20, 1870, St. Augustine was established, and the new parishioners marched from the basement of the Cathedral of the Assumption westward to their new home at Broadway and 14th Street. A school was opened under the leadership of the Sisters of Charity in 1871. Later Josephites staffed the school.
The parish quickly outgrew its second church, which was dedicated in 1902. The current church property was purchased in 1911, and Bishop Denis O'Donaghue formally dedicated the present church on September 10, 1912. One Sunday Mass was celebrated weekly for the neighborhood's white population until Sacred Heart Church was built in 1873.
As the first African-American parish in the Archdiocese of Louisville, St. Augustine has been a center for education for most of its history, sponsoring both an elementary school until it closed in 1967 and, for seven years, a high school, which closed in 1958. St. Augustine maintains an outreach ministry as a Dare to Care food center and is an active partner with West Louisville Community Ministries.
The parish continues to host important events for African-American Catholics, including the National Convention of the Knights of Peter Claver, the Mid-Eastern Conference of Negro Welfare, music workshops and retreats led by Grayson Warren Brown, and recently the 'Slice of St. Augustine,' a Kentucky Derby Festival event of jazz, local artists, and home-cooked food.
With almost 500 parishioners, the parish continues to serve the poor, homeless, and needy through an array of outreach ministries.