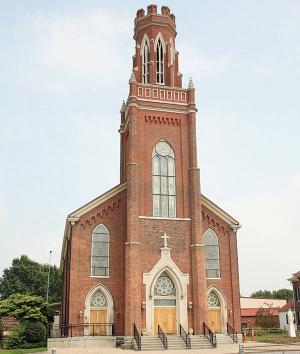 Clergy
Pastor: Rev. Mark M. Hamilton
Associate: Rev. Robert D. Barnell
Permanent Deacons: Joseph R. Dant, Dennis A. May
Pastoral Staff
Pastoral Associate: Kathy Shannon
Director of Religion and Youth Ministry: Mike Luescher
Coordinator of Family Ministries: Andrea Willett
School Principal: Paul Terrell
Music Minister: Janet George
Bookkeeper: Mary Creed
Administrative Assistant: Libby Mattingly
Mass Schedule
Sundays — Sat evening: 4:00 p.m.; Sun: 7:30 a.m., 9:00 a.m., 11:00 a.m.
Holy Days — Holy Day: 7:00 a.m., 12:05 p.m., 7 p.m.
Daily — See bulletin (7 a.m. Monday – Friday)
Reconciliation
Saturdays — 3:15 p.m.
Eucharistic Adoration
First Tuesdays — 7:30 a.m.–5:30 p.m.
History
St. Augustine began as a community in central Kentucky in the town of Lebanon. In 1813, Benedict Spalding, Lebanon's founder, set aside four acres for a Catholic church, and in 1815, Father Charles Nerinckx, the pioneering Belgian missionary, began the process of erecting a church there. Work progressed slowly. In 1819 the church could be used for services; it was completed in 1821. Father Nerinckx named it St. Hubert.
When Nerinckx left for Europe in 1820, Father David A. DeParcq took over the pastoral care. He established the first parish school, which was served by the Sisters of Loretto, in 1833. This school was in existence for four years.
In 1836, Father Robert A. Abell, a native of nearby Calvary, became the first resident pastor. During his pastorate a second, larger church was constructed on the same site as the original church. This church was consecrated in 1837 and was dedicated to Saint Augustine.
The Sisters of Loretto began a day school for girls in 1864. A school for boys began in 1883, and in 1923 an elementary and secondary school served the community of Lebanon. The elementary school remains, but the high school closed in 1970.
In 1868, Father Ivo Schacht began the construction of the present church, which was completed in 1871. Renovations of its interior following the Second Vatican Council took place from 1978 to 1983. A parish center was constructed in 1992. To celebrate the millennium, the church was renovated with a new hardwood floor in the sanctuary, a restroom and a reconciliation room was added, and new louvers were installed in the bell tower.
As the largest parish in Marion County and the region's deanery parish, St. Augustine is a leader in ministry and service. Excellent Sunday liturgical celebrations are the hallmark of the parish. As visible signs of its stewardship, St. Augustine has many programs and ministries, especially for the poor. Formation and education programs for all ages are major priorities; the elementary school is the only Catholic school left in the county.
The almost 1900 parishioners of St. Augustine are a people of great faith and tradition with a loving devotion to the Eucharist. St. Augustine celebrated its bicentennial in 2015. Our parish life is sustained by the power of the Holy Spirit with Jesus as the model.