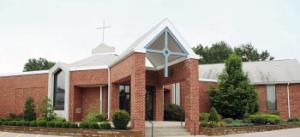 Clergy
Administrator Pro-Tempore: Rev. Robert L. Stuempel
In Residence: Rev. J. Roy Stiles
Permanent Deacons: Samuel J. King, Jesse E. Schook
Pastoral Staff
Director of Religious Formation: Debbie Minton
School Principal: Marjorie Reece
Music Director: Debbie Sandler
Music Assistant: Donna Glasser
Parish Manager: Carl Duncan
Business Manager: Billie Jean Stopinski
Assistant Business Manager: Shawn Black
Administrative Assistant: George Batcheldor
Mass Schedule
Sundays — Sat evening: 4:00 p.m.; Sun: 7:30 a.m., 9 a.m., 11:30 a.m.
Holy Days — See bulletin
Daily — Mon, Wed, Fri: 8 a.m.; Tue: 12 noon
Reconciliation
Saturdays — 3–3:30 p.m. or by appointment
Eucharistic Adoration
Wednesdays — After 8 a.m. Mass until Noon
History
In July 1960, St. Athanasius was established as a new parish on part of the farm of Charles Besse on the Outer Loop. Father Francis E. Bossung was appointed pastor in August. After meeting at St. Rita for some months, St. Athanasius' first Mass as a parish was celebrated on November 6, 1960, in the loft of Whispering Hills Country Club. Masses were offered there each Sunday until May 1961, when the faith community moved to the basement of the just-finished rectory.
The location of the church on the Outer Loop set the stage for the parish to serve the ever-increasing families who moved into the area and worked at nearby General Electric, Ford, and International Harvester. These families desired a Catholic school education for their children, and the school began operating in 1961. At one time St. Athanasius was the largest Catholic elementary school in Jefferson County.
The parish school programs include pre-kindergarten to eighth grade and an after-school care program. Along with existing buildings, the church complex comprises parish center offices, a garage, a parish hall (gymnasium), a ball field, soccer fields, and a booster club building. In 1991 the church underwent renovation, and fifteen years later it received a much-needed facelift. In 2004, the parish acquired the remaining four acres of the Besse farm, space which will figure largely in the future expansion of St. Athanasius.
Today, with continuing housing development, the school remains a significant part of the parish's ministry. United Parcel Service and the expansion of the airport provide many job opportunities. With church membership at 3,444 parishioners, and a steady school enrollment, St. Athanasius is planning to forge ahead into the future, bolstered by its strong foundation of many unsung volunteer heroes of the past and present.