Established 1879
Registration: 107
Address
Saint Ambrose
(Please note: parish mailing address is different from its location.)
Location: 609 East Main Street
Cecilia, KY 42724-9618
Parish Information
Mail To: 611 East Main Street, Cecilia, KY 42724-9618
Phone: 270-862-5343
Email: fatherbenbrown@gmail.com
Email: stambrose@windstream.net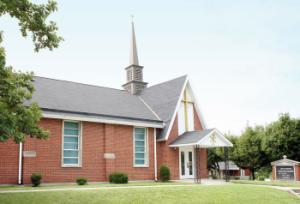 Clergy
Administrator: Rev. Benedict J.F. Brown
Pastoral Staff
(An asterisk by staff's name indicates that he or she is a volunteer and cannot be routinely reached at the parish office. For questions about this area of ministry, please contact the parish office.)
Bookkeeper: Sharon Kennedy
Office/Clerical: Virginia Hart*, Sharon Higdon*
Mass Schedule
Sundays — Sat evening: 5:30 p.m.; Sun: 8 a.m.
Holy Days — See bulletin
Daily — Wed: 5:30 p.m.; Thu: 5:30 p.m.
Reconciliation
Quarterly Communal Service in conjunction with Anointing at weekend Masses
History
In the early years of settlement, communities along waterways were the population centers, but were often later surpassed in size and influence by inland villages and towns. So, Harcourt and White Mills on the Nolin River in Hardin County were busy places, but Sonora and Cecilia outgrew them. As priests like Fathers Badin and Nerinckx missioned west from Nelson and Marion Counties, they established the parish at White Mills as early as 1842; and from there, as well as from Bethlehem Academy and Saint John Church (established in 1829), the Catholics of Cecilia were served. Father John Fitzgerald, one of the Academy chaplains, is recognized as the first pastor of Cecilia, where in 1889 he built a church dedicated to the fourth century Bishop of Milan, Saint Ambrose. A residence for priests was added in 1898.
Though constructed of brick, that first church building was destroyed when a tornado swept through the area in the morning of February 7 in 1904; a frame church was ready for use by August of that year. In 1922, an elementary school (grades 1-8) was built. The students were taught by the Sisters of Loretto, the same order that had already served at the Academy for nearly a century.
In 1945, Father Anthony Howard was appointed pastor and served more than two decades, the longest tenure to date in the history of the parish. It was during Father Howard's pastorate that the parish buildings took the form they have today. Construction began with a new school and convent. Both would be occupied for twenty years by Sisters Antonia and Blandine, who were also siblings. One taught grades 1-4 and the other grades 5-8. On July 31 of 1955, the church, which had served for just over half a century, was destroyed by fire. While the present brick structure was being built, Mass was celebrated in what was called "the picnic pavilion." Auxiliary Bishop Charles Maloney, who had been ordained bishop about eighteen months earlier in Louisville, dedicated the church on October 17, 1956.
Father Howard was followed as pastor by a priest who had served as an Army chaplain in World War II, the Korean Conflict, and the Cold War. Father Earl Rausch had the sad duty of closing Saint Ambrose School in 1968; the Sisters retired to the Motherhouse at Loretto, and many students transferred to Saint James Parish School in Elizabethtown. Father Rausch was followed by the priest who would have the third longest tenure as pastor: Father Robert Brown (1974 – 1988). For about a year after Father Brown's retirement, the parish was again served in conjunction with Saint John Parish near Rineyville. Those priests, who resided at Saint John, included the pastor with the second longest tenure, Father Stanley Osborne. Then in 2007, the pastoral care of Saint Ambrose became the mission of the clergy of Saint James Parish, which included several pastors, associate pastors (including Father Stan who served in retirement), and deacons. For about six years (2008 – 2014), the priests resided at St. Ambrose; they were also serving Saint Ignatius at White Mills.
As Saint James continued to expand to include an additional campus and an enlarging school, with potential and real growth happening at Saints Ambrose and Ignatius, the Archdiocese once again assigned clergy to Cecilia and White Mills, separate from Elizabethtown. The Archbishop appointed Father Benedict Brown, who had been serving as a military chaplain since 1990,  as administrator of Saints Ignatius and Ambrose Churches where he began to pastor approximately 100 households.
Beginning on Easter Sunday of 2018, St. Ambrose assumed responsibility for the Oratory of St. Clare in Colesburg.  Weekend Masses are not celebrated at St. Clare on a regular basis, but special days and special occasions are.  Interested persons are always welcome to contact Father Brown to learn what is happening in Colesburg.