Saint Aloysius Pewee Valley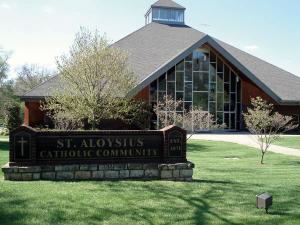 Clergy
Pastor: Rev. John J. Stoltz
Associate: Rev. Luke Min Soo Ko
Permanent Deacons: Philip L. Noltemeyer, Thomas L. Roth
Pastoral Staff
Pastoral Associate/Director of Religious Education: Mary Hynes
School Principal: Maryann Hayslip
Youth Minster: Mandy Kumler
Director of Worship and Music: Chris Tolbert
Business Manager: Dennis Blum
Office Coordinator: Cindy Sullivan
Office Assistant: Carolyn Sweeney
Receptionist: Jackie Gower
Mass Schedule
Sundays — Sat evening: 5 p.m.; Sun: 8 a.m., 11 a.m. (English Mass in the Church, Korean Mass in the Chapel), 5 p.m.
Holy Days — Holy Day: 8:15 a.m., 7 p.m.
Daily — Mon–Sat: 8:15 a.m.
Reconciliation
Saturdays — 9–10 a.m. in Chapel
Eucharistic Adoration
Tuesdays — 9 a.m.–7 p.m. in Chapel
Thursdays — 9 a.m.–10 a.m. in Chapel
Sundays — 3 p.m. and 9 p.m. in Chapel
First Fridays — 9 a.m.(after 8:15am Mass)–8 a.m. Saturday in Chapel
History
Rollington-area Catholics, who had been worshipping in private homes, built a small church dedicated to Saint Aloysius in 1865. In 1871, the appointment of Father Alexander J. Harnist as pastor marked the foundation of the parish. Two years later the community purchased a Methodist church for use as a school.
The interurban railroad was drawing population toward Pewee Valley, and the parish relocated there, building a rectory in 1911 and a church in 1913. The Sisters of Mercy opened a new school in 1926. Franciscan Friars served as pastors from 1924 until 1938, starting with Father Alphonse Wilberding, O.F.M. The twenty-nine-year pastorate of Father Albert J. Schmitt, 1938-1967, ended with his death in an automobile accident.
The 1970s brought growth on many levels. Thanks to funds raised by bingo, suitable athletic facilities in Allgeier Hall were added in 1982 for the teams sponsored by the men's club. Ever-increasing population made a larger church necessary, but it was not easy for parishioners to consider this change. After years of turmoil, Father Vincent Schweizer led a planning process for a contemporary-style church, dedicated in 1992. The second church remains a chapel for smaller services.
With about 5,000 parishioners, St. Aloysius nurtures a family appeal and a welcoming spirit, with strong outreach programs. Blending new and long-time parishioners is a challenge.
The pressures of growth created needs for the school and the religious education program, and the parish responded in 1995 with additional classrooms, a computer laboratory, a gymnasium, office space, and facilities for preschool and after-school programs.
A vision of lifelong learning extended the concept of education. The result was the Parish Lifetime Learning Center. In 2002, the Archdiocese acquired 4.6 adjacent acres and "Woodside," a Victorian-style house on the National Register of Historic Places. The land will allow St. Aloysius space for future possibilities.