Liberty, Casey Co.
Established 1987
Registrations: 41
Address
Sacred Heart Church
(Please note: parish mailing address is different from its location.)
Location: Intersection of Highways 70/127
Liberty, KY 42539
Parish Information
(Attended from Saint Bernard, Clementsville)
Mail to: c/o 5075 KY 551, Liberty, KY 42539-8688
Phone: (606) 787-7570
Email: sbchurch1@windstream.net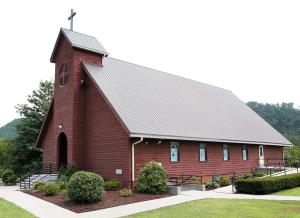 Clergy
Pastor: Rev. George Otuma, A.J.
Pastoral Staff
(An asterisk by staff's name indicates that he or she is a volunteer and cannot be routinely reached at the parish office. For questions about this area of ministry, please contact the parish office.)
Director of Religious Education: Ellen Godbey
Bookkeeper/Secretary: Syrilla Wethington
Mass Schedule
Sundays — Sun: 9 a.m.
Daily — Thu: 5 p.m.; Fri: 5 p.m.; 1st Sat: 9 a.m.
Reconciliation
Sundays — 8:30 a.m.
Thursdays — 4:30 p.m.
History
With the completion of Sacred Heart Church in Liberty in the autumn of 1987, the Archdiocese of Louisville realized the dream of having a Catholic Church in each county seat in the Archdiocese. Liberty is in the heart of Casey County in south-central Kentucky.
Father James T. Blandford, pastor of St. Bernard in Clementsville, first dreamed of this location for a mission and recommended it in a 1951 letter to Archbishop John A. Floersh. Mrs. Iva Dean Pittman of Lexington, formerly of Casey County, brought the dream closer to fulfillment in 1970 with her offer to donate seven acres of prime real estate in the center of Liberty. She stipulated the condition that a Catholic church and a community park be built there.
Father Joseph Dawson, pastor of St. Bernard from 1980 to 1990, pursued the dream. The land was deeded to the Archdiocese of Louisville in 1983, and St. Bernard made a commitment to build a church on the site. St. Bernard promised prayers, encouragement, and financial assistance, with members of the Liberty area taking primary responsibility for the development. In 1985 Bishop Charles G. Maloney gave permission to develop the area. He officiated at the groundbreaking in spring 1987. The first Mass at Sacred Heart was on Christmas Eve 1987.
Thirty-six years after Father Blandford's letter to Archbishop Floersh, his dream became a reality. Mrs. Pittman's dream came true with the completion of Sacred Heart and a park, now called Gateway Park, which serves the recreational and social needs of the Casey County community.
Today, Sacred Heart remains a small, vibrant parish with faith and love, characterized by 80 close-knit parishioners who work together for the parish and the community.