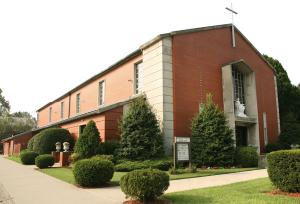 Clergy
Pastor: Rev. Philip L. Erickson
In Residence: Rev. Patrick J. Dolan
Permanent Deacon: Timothy E. Stewart
Pastoral Staff
Liturgy Coordinator: Regina Herdt
Business Manager: Lisa Baxter
Bookkeeper: Elaine Hambleton
Secretary: Clare Vize
Mass Schedule
Sundays — Sat evening: 5:30 p.m.; Sun: 10:30 a.m.
Holy Days — See bulletin
Daily — Mon: 5:30 p.m.; Tues, Wed, Fri: 8 a.m.
Reconciliation
By Appointment
Eucharistic Adoration
Wednesdays — 8:30 a.m. until 10 a.m.
History
Our Mother of Sorrows was established on January 4, 1937, by Archbishop John A. Floersh. It was formed primarily by parishioners from within Saint Elizabeth's boundaries. The famous 1937 flood of the Ohio River paralyzed the city, delaying the assignment of the first pastor, Father Edward Link. At preliminary meetings, a census showed 475 families in the new parish. Saint Elizabeth generously offered its church basement for religious services.
On April 5, 1937, ground was broken for a temporary church. Dedication of the completed structure took place later that year. Early in 1938, the present school building was completed. The children of the parish were educated by the Ursuline Sisters of Louisville and later by lay teachers until the school closed in 2005.
The parish congregation grew rapidly; on January 26, 1958, the cornerstone of the permanent church was blessed. At the completion of the church building in December 1958, it was debt free.
Through the generosity of many dedicated parishioners throughout the years working in harmony under the guidance of their pastors, the faith community of Our Mother of Sorrows has evolved. In 2012, Our Mother of Sorrows, Saint Elizabeth of Hungary, and Saint Therese formed a collaborative to share staff and ministry. The success of that collaboration continues today. The parish has committed itself to "serving the spiritual, moral, and physical needs of our community…. to building God's kingdom on earth through diversity and outreach of our various parish ministries."