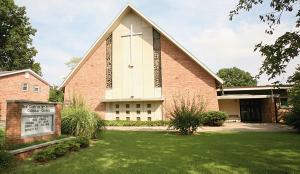 Clergy
Pastor: Rev. Brian A. Kenney
Permanent Deacons: John M. Fellonneau, W. Timothy Johnson, Terry W. Maguire, Michael A. Tolbert
Pastoral Staff
(An asterisk by staff's name indicates that he or she is a volunteer and cannot be routinely reached at the parish office. For questions about this area of ministry, please contact the parish office.)
Director of Religious Education: Julie Stieren
School Principal (Saint Nicholas Academy): Kathy DeLozier
Liturgy Music Coordinator: Chip Lucas*
Liturgical Ministers Coordinator: Julia Lish*
Bookkeeper: Marie Blumeier
Secretary: Cecilia May
Mass Schedule
Sundays — Sat evening: 5:30 p.m.; Sun: 8:30 a.m., 12:30 p.m.
Holy Days — Holy Day: 8:15 a.m.
Daily — Mon–Sat: 8:15 a.m.
Reconciliation
Saturdays — 4:45 p.m.
History
Established to serve the spiritual needs of a growing Catholic population in the area south and east of Iroquois Park in Louisville's South End, Our Lady of Mount Carmel Parish began functioning in 1957. Carmelite Fathers were invited to assume responsibility for the operation of the new parish, and the first pastor was Father Luke Bresnahan, O. Carm. Mass was first offered on September 8, 1957, in a nearby public school. Construction of the buildings began in early 1959. The official dedication took place on November 13, 1960.
The school was staffed by the Dominican Sisters until the mid1980s. The rectory was built in 1961 and the convent in 1965. (The convent was renamed Marian Hall in 1988 following its conversion from a residence to a parish office and meeting facility.) Cattelona Hall, a large multi-purpose building featuring a gymnasium and junior high classrooms, was erected in 1978. In the summer of 1988, a facility was constructed to house a new library and computer laboratory, areas now used as an adult formation center and as a place for post-funeral luncheons.
In 1998, the Gillen Education Center was dedicated. It includes classrooms, a library, a computer laboratory and administration offices. The parish school closed in July 2005; together with three other South End parishes, Our Lady of Mount Carmel then helped to open St. Nicholas Academy. In addition, a religious education program for pre-K through high school and an adult faith-formation program were started with four other South End parishes in August 2005 under the name The Religious Education and Evangelization Center of South Louisville. In July 2006, the Carmelite Fathers relinquished administrative responsibility of the parish to the Archdiocese.
A warm family atmosphere has been and continues to be one of Our Lady of Mount Carmel's hallmarks. The amount of involvement and activity by more than 3,400 parishioners makes the parish an energizing and vital place.