Hodgenville, LaRue Co.
(Established 1853)
Registrations: 90
Address
Our Lady of Mercy Church
208 S. Walters Ave.
Hodgenville, KY 42748-1425
Parish Information
Phone: (270) 358-4697
Fax: (270) 358-3601 (call first)
Email: olmparish@windstream.net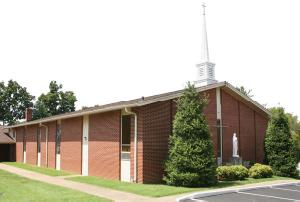 Clergy
Pastor: Rev. Brian A. Kenney
Permanent Deacon: James A. Cecil
Pastoral Staff
(An asterisk by staff's name indicates that he or she is a volunteer and cannot be routinely reached at the parish office. For questions about this area of ministry, please contact the parish office.)
Formation Minister: Claudia Silva*
Music Director: Karen Barnes
Secretary: Cathy Senesi
Mass Schedule
Sundays — Sat evening: 4 p.m. (Reconciliation at 3:30 p.m.); Sun: 10 a.m.
Holy Days — See bulletin
Daily — Tue, Wed: 8:30 a.m.
Reconciliation
Saturdays — 3:30 p.m. or any time by appointment.
History
In the early nineteenth century, priests from old St. Thomas Church and Seminary occasionally visited settlers' homes to celebrate Mass. Father Robert Abell, the first residential pastor in New Haven, assumed responsibility for a steadily growing Hodgenville mission, and in 1853 he purchased land for the construction of a brick church, dedicated in 1855. Father Francis DeMeulder served the mission from 1859 through 1865 until it attained parish status in 1866, with Father John Reed assigned as the first pastor.
After Father Reed's departure in 1869, the parish reverted to a mission, once again served by New Haven priests, Fathers Nicholas Ryan and Anthony Viala, until 1874. Father William McMackin arrived at the mission in 1876, and once again it attained parish status until 1916, with eventual responsibility for St. Ann, the Howardstown mission. St. Ann's burgeoning membership exceeded that of Our Lady of Mercy, and when Father Engelbert Schmitt transferred his residence to Howardstown, Our Lady of Mercy again devolved into a mission, this time served by St. Ann.
The mission once again attained parish status in 1982 and continues to serve as a vital Catholic presence in LaRue County. Its ministries include an array of social justice activities and ecumenical involvements. With a recent influx of Hispanic immigrants, parishioners formed a multicultural awareness committee that sought Spanish-speaking clergy to celebrate Mass for the growing Hispanic community. Hispanic leaders started serving on various committees. Today, the parish offers service in English and Spanish on a weekly basis throughout the year.
Our Lady of Mercy Parish has almost 200 parishioners. The parish seeks to recognize all members' gifts, train them to share their talents for the good of the wider community, and celebrate the Good News of Jesus Christ in the decades to come.