Phillipsburg, Marion Co.
Established 1948
Registrations: 34
Address
Our Lady of Fatima Church
(Please note: parish mailing address is different from its location.)
Location: 7066 Calvary Rd between Lebanon and Campbellsville, Phillipsburg KY 42718
Parish Information
(Attended from Our Lady of Perpetual Help, Campbellsville)
Mail to: 213 University Dr., Campbellsville, KY 42718-2192
Phone: (270) 465-4282
Fax: (270) 789-9669
Email: olph@windstream.net
Website: http://www.onfirecatholic.com/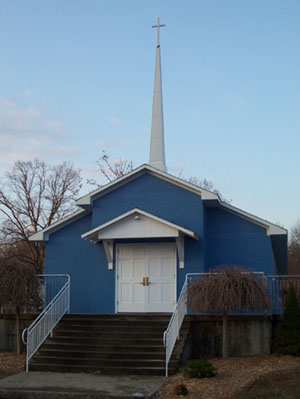 Clergy
Pastor: Rev. Saju M. Vadakumpadan, C.M.I.
Pastoral Staff
Bookkeeper: Angela Bright
Secretary: Karen Sanders
Mass Schedule
Sundays — Sun: 8:00 a.m.
Holy Days — See bulletin
Daily —Sat: 8 a.m. (First Saturday)
Reconciliation
Sundays — 7:30-7:45 a.m.
First Saturdays — 8:30-9:30 a.m. (With Adoration)
History
Our Lady of Fatima church is located at the foot of Muldraugh Hill in Phillipsburg, which is in Marion County on Highway 208.
Before the church was built people in this area went to Spurlington Church, about four miles away or to Holy Name of Mary at Calvary, about five miles away, if they could get there. Five miles may not seem a great distance today, but before 1950 that was not the case. Many walked up the railroad and through the tunnel to get to the Spurlington church.
Everyone was excited when Father Louis P. Bossung visited the area and inquired about building a church in Phillipsburg. On March 7, 1948, Father Louis held the first Mass in the old former schoolhouse across the road from where the present church is now located.
Plans immediately began to build a church of a Spanish mission design. The land was donated by Mr. and Mrs. Leonard Drury. Vonley Newton furnished the lumber, and everyone around helped in any way they could. With the church completed, the first Mass was held in early 1949 and dedicated on October 26 by Archbishop John A. Floresh.
Our Lady of Fatima was established as a mission of Our Lady of the Hills, Finley, and cared for by its pastors until 1990. In 1990, the parish was clustered with Holy name of Mary in Calvary with Father Joseph Dawson as the pastor. Father David Naylor was assigned in 2001. When he was reassigned in 2004, the mission of Our Lady of Fatima also moved. Once again, the parish was clustered with Our Lady of the Hills and also with Our Lady of Perpetual Help, Campbellsville. These three clustered parishes continue to share a pastor.
The small rural parish, with its walls of blue, is known for its early morning Mass, a favorite of parish members as well as many from other communities. Today the parish has 61 parishioners.