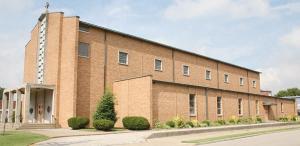 Clergy
Pastor: Rev. Steephen Koola, C.M.I.
Pastoral Staff
(An asterisk by staff's name indicates that he or she is a volunteer and cannot be routinely reached at the parish office. For questions about this area of ministry, please contact the parish office.)
CCD Coordinator: Sandra Blanford*
School Principal (Saint Nicholas Academy): Kathy DeLozier
Youth Ministers: Jackie Hollenkamp Bentley*, Alexandra McPherson*
Music Director: Joey Southerland
Bookkeeper: Susan Welsh
Secretary: Ruby Alvey
Mass Schedule
Sundays — Sun: 8:30 a.m., 11:30 a.m.
Holy Days — See bulletin
Daily — Mon, Wed: 8 a.m.
Reconciliation
Sundays — 7:45-8:15 a.m.
History
Most Blessed Sacrament Parish celebrated its first Mass on the fourth Sunday of April, 1937, in a building rented from Brother Walker, pastor of Carlisle Avenue Baptist Church. It was a year of challenges. The Ohio River flood had devastated Louisville, the Depression was still affecting many, and the world was on the brink of war. Undaunted, a small band of Catholics, mostly from St. Helen and Holy Name Parishes, led by Most Blessed Sacrament's first pastor, Father William J. Mulcahy, went to work. They cleaned the former Baptist Church building on Woodruff, and in less than four months had it ready for services. In little more than a year, a new school-church building was opened. Mass was celebrated in its basement until the present church was built in 1962. A new altar was dedicated in 1995, and Pioneer Hall was added in 1998.
Most Blessed Sacrament School began in 1937 and was staffed by the Sisters of Charity of Nazareth and from 1972 to 1987 by the Ursuline Sisters of Louisville. It closed in 2004 to join with St. Thomas More, Our Lady of Mount Carmel, and SS. Simon and Jude Schools to form St. Nicholas Academy.
From about sixty families, Most Blessed Sacrament has grown to more than 550 parishioners. The parish council works through committees—worship, formation, administration, Christian services, finance, bereavement, and sick and homebound. Activities include the Men's Club, Altar Society, Bible study, CCD, and RCIA. Annual gifting projects are the Apple Tree to help with school supplies and the Angel Tree at Christmas.
Pioneer Hall is kept busy with athletic events, receptions, spring and fall festivals, bingo, the W.W.E. wrestling programs, health screening, and more. The parish worked with Catholic Charities and the Housing Partnership of Louisville to convert the former school building into housing for the elderly. That project is now complete, with most units being rented out.
A landmark in south Louisville, Most Blessed Sacrament continues the ministry begun in the dark days of 1937, striving to remain a beacon of light for the area.