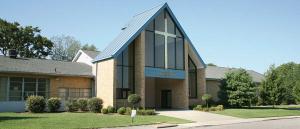 Clergy
Pastor: Rev. Christopher S. Rhodes
Senior Associate: Rev. Thomas E. Gentile
Permanent Deacon: K. Michael Burchett
Pastoral Staff
Choir Director: Steve Kniffley
Bookkeeper: Cecilia Cassady
Secretary: Adriene Taylor-Mitchell
Mass Schedule
Sundays — Sun: 9 a.m.
Holy Days — Holy Day: 7 p.m.
Daily — See bulletin
Reconciliation
By Appointment
History
A letter from Archbishop John A. Floersh created Immaculate Heart of Mary Parish on September 3, 1953. He asked the Verona Fathers (Sons of the Sacred Heart) to establish the church and set its boundaries as soon as possible. Father Alfio Mondini, F.S.C.J., was the founding pastor. The Verona Fathers served until 1971, when they handed over parish administration to diocesan clergy.
The first Mass was offered on November 12, 1953, in the old house at 3203 Southwick Avenue. As the parish grew, the early parishioners labored lovingly to create a chapel in an old barn on the property, which lacked electricity and needed major repairs to its roof. It sustained the community in the cold winters of 1953 and 1954.
The Housing Authority of the City of Louisville made the Community Center at Cotter Homes available for Mass until the present church was constructed. Church and school were dedicated on December 4, 1955. Parishioner Edward Davis, owner and director of Davis Trade, the only vocational school in the city for African Americans, had been on the construction crew.
The school opened in September 1954. Early in 1955, several Dominican Sisters came as teachers, launching years of dedicated work in the parish. In 1973, the school building housed the new West End Catholic School, which was supported by Immaculate Heart, Holy Cross, and St. Augustine Parishes. After West End Catholic closed in 1989, the parish continued to support Catholic school education at All Saints Academy (housed at Christ the King Parish) until it closed in 1995.
Among the accomplishments of the strong parish council is a renovation of the worship space begun in 1999. Services were held at Christ the King until the renovation was completed in October 2002. Immaculate Heart has grown to 400+ parishioners. Its many outreach programs serve the larger community. Recently,  the London Room, which is attached to the back of the church hall, became available for outside rentals.