Immaculate Conception LaGrange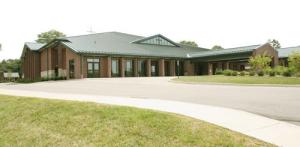 Clergy
Administrator Pro-tempore: Rev. Trumie C. Elliott
Hispanic Ministry: Rev. José J. Márquez
Permanent Deacons: Robert R. Caruso, Thomas M. McNally
Pastoral Staff
Director of  Children's Ministry: Susan Ashby
Youth Minister: Elizabeth Williams
Young Adult Minister: Kevin Stetter
Director of Music and Worship: Mark Walker
Bookkeeper: Veronica Robello
Administrative Assistant: Monica Breitholle
Mass Schedule
Sundays — Sat evening: 5 p.m.; Sun: 8 a.m., 10:30 a.m., 12:30 p.m. (Spanish)
Holy Days — See bulletin
Daily — See bulletin (on website at www.iclagrange.org)
Reconciliation
Saturdays — 4–4:45 p.m.
Sundays — 4–4:45 p.m. (Spanish)
Eucharistic Adoration
Mondays, Wednesdays, Fridays — 9 a.m.–7 p.m.
History
In the mid-1800s, Immaculate Conception opened as a mission in Oldham County for Irish railroad workers. It became a mission of St. Aloysius when a resident pastor was appointed there in 1871.
The first church, on North Street, had a capacity of 300. When the railroad moved its main operations from LaGrange to Louisville in 1899, many workers moved with it. In 1900, the remaining parishioners built a much smaller church with the capacity to seat sixty on the same site.
The cornerstone for a connected church and school was laid in 1950 on land acquired on North Fifth Avenue in 1949. The Sisters of Mercy from Pewee Valley staffed the two-room school when it opened in 1950 with sixty students. It was the first Catholic school in LaGrange. With about sixty-five families, Immaculate Conception attained parish status in 1962. Father William Diersen was the first pastor.
By 1979, the school had expanded to eight classrooms. The first parish council was organized in 1980. Parishioners also established the Agape Thrift Shop, where people in need could obtain clothing and household items at very low cost.
In 1994, the Marian Center was completed to accommodate the school offices, child development center, and gymnasium. Ground was broken in 2002 for a new complex that includes a new church with a seating capacity of 1,100 (dedicated in 2004), offices and meeting rooms, as well as a separate rectory.
With more than 3,000 parishioners today, Immaculate Conception continues to spread the good news with faith-filled and meaningful liturgies, strong religious education through its child development center, religious education, adult formation programs, and outreach ministries that serve the needs of the poor, sick, and lonely in four counties. Founded to serve Irish Catholic railroad workers, the parish now serves Catholics of many ethnic backgrounds. Blessed with Christ-like, nurturing leaders and a community of believers, Immaculate Conception strives to exemplify the Good News of Jesus Christ.