Holy Trinity Fredericktown
Fredericktown, Washington Co.
Established 1883
Registrations: 260
Address
Holy Trinity Church
306 Fredericktown Rd.
Springfield (Fredericktown), KY 40069-9321
Parish Information
Phone: (859) 284-5242
Fax: (859) 284-5224
Email: htr@bardstown.com
Facebook >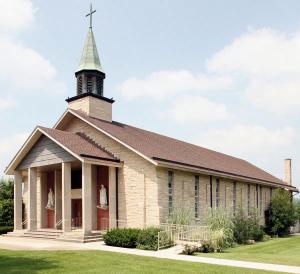 Clergy
Pastor: Rev. Michael C. Martin
Permanent Deacon: Richard J. Fagan
Pastoral Staff
(An asterisk by staff's name indicates that he or she is a volunteer and cannot be routinely reached at the parish office. For questions about this area of ministry, please contact the parish office.)

Director of Religious Education: Chris Riley*
Director of Music and Liturgy: Judy Gordon
Bookkeeper: Marda Weakley
Administrative Assistant: Regina Johnson
Mass Schedule
Sundays — Sat evening: 4 p.m.; Sun: 7 a.m., 11 a.m.
Holy Days — See bulletin or call the parish office.
Daily — Tue, Wed, Fri: 10 a.m.; Thu: 8:30 a.m.
Reconciliation
First Fridays — after 10 a.m. Mass
Saturdays — 3:00–3:45 p.m.
First Saturday — after 8:30 a.m. Mass
Any time by request
History
The people in the largely Catholic community of Fredericktown longed for a church in their own area. They overcame almost insurmountable difficulties, and through hard work and untiring efforts, their dream was realized when a new church was dedicated on October 15, 1883. Father William M. Buckman was appointed the first pastor (1883-1901). The people had previously walked or traveled by horse nearly five miles to attend Mass at St. Rose or at Holy Rosary at Manton.
The old church served the community well for seventy-two years, but the parish outgrew the building. In 1955, a new church and rectory were built. The building, made of Bedford stone, was dedicated on April 15, 1955 and was large enough to hold 400 people. It has truly been the center of the community.
Holy Trinity Parish had a Catholic elementary school staffed by the Ursuline Sisters of Mount St. Joseph from 1962 until 1972, when it was converted to a public school. The Ursulines served the community of Fredericktown by teaching in the public elementary and secondary schools from 1916 to 1978.
Today this thriving parish consists of some 1,000 parishioners. Holy Trinity is a place where parishioners belong, care, work, and pray together. Activities embrace young and old alike. In 2003 the old auditorium was torn down, and the Holy Trinity Parish Center was built to accommodate further growth. It has proved a great asset to the community as well as to the school.
Since the beginning, many people have worshiped and worked diligently for this wonderful, small and unique parish.