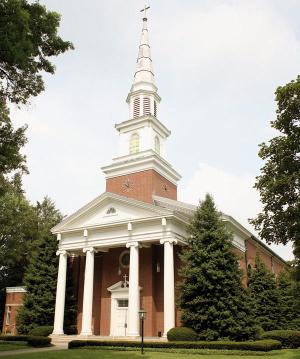 Clergy
Pastor: Rev. Frederick W. Klotter
Permanent Deacon: Anthony T. Brown, R. Bryan Bush, Robert C. Hall
Pastoral Staff
Director of Religious Education: Carol Magee
School Principal: Doris Swenson
Choir Director: David Minton
Business Manager: Karen Bisig
Bookkeeper/Human Resources: Gina South
Administrative Assistant: Jane Hertzman
Receptionist: Shannon Gaeta
Stewardship Recorder: Laura Foley
Mass Schedule
Sundays — Sat evening: 5 p.m.; Sun: 8:00 a.m., 10 a.m.
Holy Days — Holy Day: See bulletin
Daily — Mon–Sat: 8:15 a.m.
Reconciliation
Saturdays — 7:45 a.m. and 3:30 p.m.
Eucharistic Adoration
Mondays — 7 p.m.
History
On May 20, 1936, Archbishop John A. Floersh purchased a lot on Cannons Lane to be the site of a new East End parish, the future Holy Spirit Parish. In 1937, Father John W. Vance was appointed as the first pastor and moved into a temporary rectory on the Sacred Heart Academy grounds, just in time to begin the ministry of caring for flood refugees from Louisville's West End, who had been offered shelter by the Ursuline Sisters of Louisville. The first parish Mass was offered on February 21, 1937, in Sacred Heart's auditorium.
Archbishop Floersh blessed the new church on January 2, 1938. In June 1939, the parish bought the adjoining property with a white frame house that became the rectory. In preparation for the building of a permanent church, another 100 feet of land was purchased in October 1951. Archbishop Floersh blessed the new church in 1955. There were then some 800 families and 550 schoolchildren in the parish.
A new pipe organ was installed in 1990. A ministry center in the shape of a cross was built in 1992. Throughout the years, the parish has purchased adjacent properties when they became available to allow for expansions such as the child care center, youth house, and additional parking space.
A strong sense of stewardship has developed from the parishioners' awareness of their many blessings. A recent example of this stewardship can be seen in the completion of a major facilities renovation in January 2002, which allowed the church building to be connected with the school and all other primary parish buildings.
With over 3,000 parishioners, Holy Spirit also has a strong dedication to outreach, assisting other parishes in the Archdiocese, in the state, and in Peru through time, talent, and treasure. Many organizations, such as United Crescent Hill Ministries, have benefited from Holy Spirit's generosity and participation.