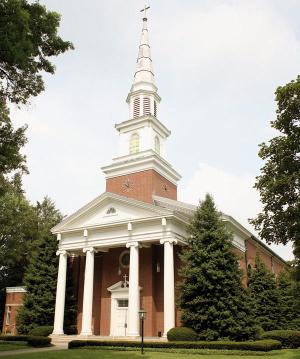 Clergy
Pastor: Rev. Frederick W. Klotter
Permanent Deacons: Anthony T. Brown, R. Bryan Bush, and Robert C. Hall
Pastoral Staff
Director of Religious Education: Carole Magee
School Principal: Doris Swenson
Director of Music: Dr. Stephen Black
Business Manager: Karen Bisig
Bookkeeper/Human Resources: Gina South
Administrative Assistant to the Pastor: Jane Hertzman
Stewardship Recorder: Laura Foley
Receptionist: Shannon Gaeta
Mass Schedule
Sundays — Sat evening: 5 p.m.; Sun: 8:00 a.m., 10 a.m.
Holy Days — Holy Day: See bulletin
Daily — Mon–Sat: 8:15 a.m.
Reconciliation
Saturdays — 7:45 a.m. and 3:30 p.m.
Eucharistic Adoration
Mondays — 7 p.m.
History
On May 20, 1936, Archbishop John A. Floersh purchased a lot on Cannons Lane to be the site of a new East End parish, the future Holy Spirit Parish. In 1937, Father John W. Vance was appointed as the first pastor and moved into a temporary rectory on the Sacred Heart Academy grounds, just in time to begin the ministry of caring for flood refugees from Louisville's West End, who had been offered shelter by the Ursuline Sisters of Louisville. The first parish Mass was offered on February 21, 1937, in Sacred Heart's auditorium. Archbishop Floersh blessed the new church on January 2, 1938.
In June 1939, the parish bought the adjoining property with a white frame house that became the rectory. In preparation for the building of a permanent church, another 100 feet of land was purchased in October 1951. Archbishop Floersh blessed the new church in 1955. In 1966 a new rectory was built.
Meeting Rooms, classrooms, school offices and a school library were added and/or reconfigured in 1984. A house, at the rear of the property,  was purchased and renovated for after school childcare of Holy Spirit children this same year. A new pipe organ was installed in 1990 in Memory of the former Pastor, Rev. Joseph McGee who died tragically in a car accident in 1988.
A prayer garden with a beautiful bronze statue of Mary and baby Jesus  along with a water fountain was added in May 1991. In 1992 the parish offices were moved from the 1st floor of the rectory to a building referred to as the Ministry Center in the middle of the church parking lot.
A major facilities renovation was completed in January 2002 which connected the church building to the school by the addition a colonnade and beautiful Rotunda.  New school classrooms, administrative area, new meeting rooms,  a new cafeteria and junior high wing were also added to the school building as a part of this project. In 2008 the school library was beautifully renovated into a spectacular space for children to enjoy reading and learning.
In the summer of 2012 an area in the lower level of the school was renovated to accommodate adding a PreK program to our school beginning that fall, 2012. The Archdiocesan Building a Future of Hope Campaign enable the interior and exterior of church to be painted as well as refinishing all church pews.  These project began in 2012 and were completed late 2013. Additional green space was purchased from neighboring yards in the spring of 2014.
The Childcare building was renovated with new windows, paint, and new deck work in Spring of 2015. In June 2016 a PreK playground was built in green space on the property near the childcare building. In the Spring of 2017 a bronze statue of St. Frances of Assisi was erected on the exterior of the colonnade by the Prayer Garden. In the spring of 2018, the original baptismal font, that had been tucked away for years in the sacristy, was brought back into the church in a designated area at mid break.  Pews were removed and a beautiful terrazzo floor design was made with symbols of baptism in the same area.
With over 2,300 parishioners, Holy Spirit also has a dedication to outreach such as United Crescent Hill Ministries, House of Ruth, Golden Arrow, Little Way Pregnancy Resource Center, Immaculate Heart of Mary to name a few. These organizations have and continue to benefit from Holy Spirit's parishioners generosity and participation.