Manton, Washington Co.
Established 1844
Registrations: 72
Address
Holy Rosary Church
(Please note: parish mailing address is different from its location.)
Location: 6964 Cissellville Road
Manton, KY 40069
Parish Information
(Attended from Holy Trinity, Fredericktown)
Mail to: c/o 306 Fredericktown Rd., Springfield, KY 40069-9321
Phone: (859) 284-5242
Fax: (859) 284-5224
Email: htr@bardstown.com
Facebook >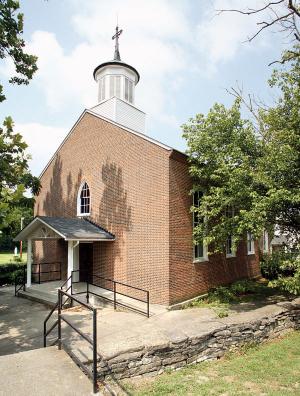 Clergy
Pastor: Rev. Michael C. Martin
Permanent Deacon: Richard J. Fagan
Pastoral Staff
(An asterisk by staff's name indicates that he or she is a volunteer and cannot be routinely reached at the parish office. For questions about this area of ministry, please contact the parish office.)

Director of Religious Education: Chris Riley*
Bookkeeper: Marda Weakley
Secretary: Regina Johnson
Mass Schedule
Sundays — Sun: 8:30 a.m.
Holy Days — See bulletin or call the parish office.
Reconciliation
First Sundays — After 8:30 a.m. Mass
Saturdays — 3:00–3:45 p.m. (At Holy Trinity, Fredericktown)
Any time by request
History
Dominicans of St. Rose Priory established Holy Rosary Church at Blinco (now called Manton). The cornerstone was laid in 1844, and the church was blessed in 1848. Many Catholics lived in the small but flourishing community in Washington County, where Hardin's Creek empties into the Beech Fork River. This area, too far from St. Rose in Springfield and Holy Cross in Holy Cross, required a church of its own.
Holy Rosary was at first a mission of St. Rose, with Dominican priests as the pastors. In 1866, it became a mission of Holy Cross Church, where diocesan priests, Fathers Patrick Fount and Edward Lynch, were serving. Since 1883 it has been a mission of Holy Trinity in Fredericktown, and Father William M. Buckman was its first pastor. It still serves this group of rural Catholics, some of whom are descendants of the original families, plus numerous others who have settled in and around this little valley.
The original church has been well maintained over the years. The parish bought the two-room Manton school building at auction in the late 1970s and modernized it as Manton Hall. Here social events like the fall chili supper and spring pancake breakfast take place, and many family reunions are held. The graveyard, just a few steps from the church, had its beginning in 1917 or 1918.
After more than a century and a half, Holy Rosary Church, with about 200 parishioners, still provides the foundation for this rural Catholic community: a quiet, simple, country place to worship.