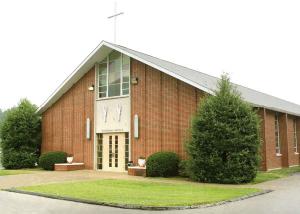 Clergy
Pastor: Rev. Jeffrey P. Leger
Pastoral Staff
Business Manager: Sharon Hennessey
Mass Schedule
Sundays — Sat evening: 4 p.m.; Sun: 8 a.m. (EF-Latin), 10 a.m.
Holy Days — See bulletin
Daily — Tue-Fri: 7:00 a.m.; Sat: 8:30 a.m.
Reconciliation
Tuesdays, Wednesdays, Thursdays, Fridays— 7:45 a.m.-8:15 a.m.
Saturdays — 8:00 a.m.-8:20 a.m. and 3:00 a.m.-3:40 p.m.
History
Guardian Angels parish was canonically established by the Most Reverend John A. Floersh, Archbishop of Louisville, on July 23, 1957.   The Reverend Dominic Altieri was named the first pastor the following August, and by September he was celebrating Holy Mass for the parish in the Durrett High School cafeteria until a church could be built.  The cornerstone of Guardian Angels Church was laid in June, 1958; the cost of building the new church and adjoining school building was $252, 090!  The first Mass was offered on October 26, 1958—the Feast of Christ the King.  The Most Reverend Charles G. Maloney, Auxiliary Bishop of Louisville consecrated the church itself in January 1959.
As with many parishes erected in that time, Guardian Angels was built predominantly for the sake of forming a new school, which is why the church is very simple in its construction and is attached to the school building.  The school was first staffed by the Sisters of Loretto.  By 1962 the parish school had 700 students.  In 1968, the downward trend began in the student population, but Guardian Angels school endured until 1991.  That same year the parishes of Guardian Angels, Resurrection, and Saint Ignatius Martyr pooled student populations and resources to form a new school, Thomas Merton Academy; it closed in 2003. Shortly afterwards, Pitt Academy took up residence in the school building until its departure in 2015.  Since 2016, Immaculata Classical Academy has been leasing the school building, so the tradition of having a school on the property continues.
Guardian Angels is now a small but deliberately traditional parish that centers itself on the Holy Sacrifice of the Mass, from which all charity flows.  Both the Ordinary and the Extraordinary Forms of the Latin Rite are celebrated in the church with the intention of glorifying God and fostering the devotional life of the people so that they can effectively call others to true life in Christ via their charity and good example.