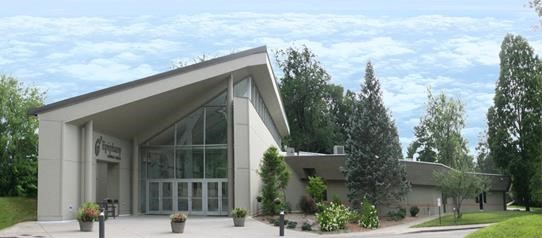 Clergy
Pastor: Rev. J. Randall Hubbard
Associate: Rev. Anthony L. Cecil, Jr.
Hispanic Ministry: Rev. José J. Márquez
Permanent Deacon: Joseph V. Mobley III
Pastoral Staff
Pastoral Associate for Stewardship & Evangelization: Vacant
Pastoral Minister of Youth & Young Adults: Tasha Gordon
Pastoral Associate of Social Responsibility: Polly Duncan Collum
Director of Faith Formation:  Lisa Downs
Community Life Coordinator: Angie Fox
Director of Worship and Music Ministries: Linda Thieneman
Business Manager: Mary Downs
Bookkeeper: Lynne Webb
Communications Coordinator: Jordan Wheatley
Administrative Assistant:  Maria Schapker
Mass Schedule
Sundays — Sat evening: 5:30 p.m.; Sun: 9 a.m. (ASL Interpreted), 11:30 a.m.
Holy Days — See bulletin
Daily — Mon: 5:30 p.m.; Tue-Thu: 8:30 a.m.; Thu 6:00 p.m. (Spanish Mass or Prayer Service)
Reconciliation
Saturdays — 4:00 p.m. or by appointment.
Communal Services as scheduled.
Eucharistic Adoration
First Fridays — 11:30 a.m.
History
After the Second Vatican Council, Fathers James Flynn and Richard Fowler, asked Archbishop Thomas J. McDonough to establish a faith community that would emphasize liturgy, social justice, lifelong formation, and ecumenical cooperation with other faith communities. Epiphany Catholic Church celebrated their first liturgy on June 20, 1971, at Saint Thomas Orphanage in Anchorage. The permanent worship center, designed by architect Larry Melillo, was formally dedicated on January 5, 1975, on land adjacent to the Burrwood property, former home to Archbishop Floersh.
Annually the community of Epiphany Catholic Church rededicates to the following mission:
Animated by the Holy Spirit and rooted in the Roman Catholic tradition, we are the community of Epiphany on a pilgrimage of faith. In response to our baptismal call and sustained by prayer:
• We choose to live the Gospel of Christ with humility and compassion.
• We embrace diversity and nurture the unique gifts of all.
• We search for truth in a complex and changing world.
• We experience the struggle and excitement of transformation through conversion.
• We accept the responsibility of shared, collaborative ministry.
• We celebrate our oneness with God and all creation.
• We strive to be a manifestation of God in our time.