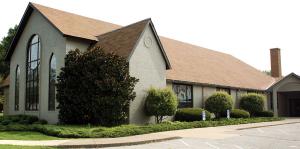 Clergy
Pastor: Rev. Adam B. Carrico
Permanent Deacon: John M. Lewis

Pastoral Staff
Pastoral Associate: Patrick Parris
Director of Formation: Vicky Chism
School Principal: Terrence Mullaney
Director of Youth Ministry: Mary Sullivan
Director of Liturgy: Holly Smith
Business Manager: Theresa Garrett
Bookkeeper: Rebecca Miles
Secretary: Donna Schabel
Mass Schedule
Sundays — Sat evening: 4:00 p.m.; Sun: 9:30 a.m., 4:00 p.m.
Holy Days — See bulletin
Daily — Tue-Fri: 8:15 a.m.
Communion Service
Mon: 8:15 a.m.
Reconciliation
Second Friday — 7-8 p.m.
45 minutes before weekend Masses
Eucharistic Adoration
First Friday — 2-5 p.m.
History
Established as an annex to Saint Barnabas Church (which recently merged with Saint Pius X to become Saint John Paul II Church), the Church of the Ascension is now entering its sixth decade of service to the people of southeast Louisville.  Much has changed on the Ascension campus grounds over the years, but, one important thing has remained:  Ascension is a thriving, hospitable, and vibrant parish.
Composed of more than 700 households (and growing), Ascension sponsors a school ministry that enrolls nearly 240 children from 3-years-old through grade 8.  Many Ascension School alumni have gone on to great success, not only in high school and college but also in a variety of professions and walks of life.
The community's liturgical celebrations remain at the heart of the parish's mission and life.  Recent attendance at weekend Masses continues to increase as does the call for parishioners to participate in liturgical ministries.  Full, conscious, and active participation in the Eucharist remains integral to the faith life of Ascension parishioners.
Religious formation has received renewed attention over the past few years with the creation of weekly Scripture studies and spiritual renewal programs targeting men, women, youth, seniors, and parents of school-aged children.
The hallmark of the parish remains its welcoming atmosphere to all of God's people.  Join us today!