Christ the King Tompkinsville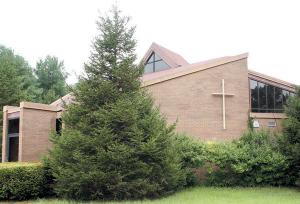 Clergy
Pastor: Rev. L. Wilfredo Fernandez
Permanent Deacon: John G. Froehlich
Pastoral Staff
(An asterisk by staff's name indicates that he or she is a volunteer and cannot be routinely reached at the parish office. For questions about this area of ministry, please contact the parish office.)
Formation Ministers: Dee Emmert*, George Shaginaw*
Worship Ministers: Char Shaginaw*, Vonda Dunagan*
Business Manager/Bookkeeper: Kenneth Scheller
Mass Schedule
Sundays — Sun: 8:30 a.m., 2 p.m. (Spanish)
Holy Days — 6 p.m.
Daily — Tue: 6 p.m.
Reconciliation
By Appointment
History
Christ the King opened in 1965 as a mission of St. Helen Parish in Glasgow under the leadership of Father John Molloy, C.P.M. Its location in Monroe County was marked by strong anti-Catholic sentiment. Building materials were stolen from the church's construction site, where a tent was in place for services. Before 1967, Mass was celebrated in private homes, including a mobile home still standing near the church, which has provided a residence for pastoral workers.
In 1980, Christ the King became a mission of Christ the Healer in Edmonton. About twenty Catholic families, totaling forty-seven parishioners, comprised the mission. Sister Mary Frances Honnon, S.S.J., served as pastoral minister, conducting religious education classes on a one-to-one basis. Religious education continues with one class for each grade since 2001. More than half of the current students are Hispanic.
In October 1983 the parish embraced a mission statement: "We, the family of Christ the King Parish, dedicate ourselves to forming a loving and hope-filled community by joyfully living the Christian life, by celebrating and affirming our belief in God with one another and with all believers, by freely sharing our material resources and our personal gifts, and by reaching out to serve the needs of others wherever we find them."
To this end, parishioners formed a non-profit organization called Community-Outreach (COR) to complement the services of other organizations. Later incorporated, COR provides shelter, food, and cash (when available) to the needy. The Village Shop, a part of this endeavor, sells donated clothes and other items at reduced prices. These entities have served many families in crisis.
Youth groups from New York, Illinois, and elsewhere volunteer at the shelter for a week every July, assisting elderly or handicapped persons with personal care and home repairs, building steps, repairing floors and roofs, and serving the area's needy. Today, the parish serves about 70 parishioners.