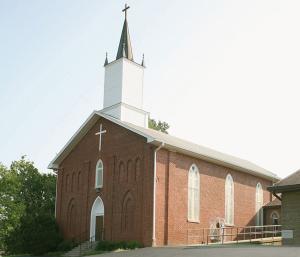 Clergy
Pastor: Rev. John R. Johnson
Permanent Deacons: Carl A. Fahringer, Patrick D. Harris
Pastoral Staff
(An asterisk by staff's name indicates that he or she is a volunteer and cannot be routinely reached at the parish office. For questions about this area of ministry, please contact the parish office.)
Pastoral Assistant: Peter Rendon
Director of Religious Education: Becky Culver
Music Minister/Bookkeeper: Mary Creed
Secretary: Carmen E. Rendon
Mass Schedule
Sundays — Sun: 8: 00 a.m., 12:00 p.m.
Holy Days — See bulletin
Reconciliation
Third Saturday — 4:00–4:30 p.m.
Eucharistic Adoration
Second Wednesday — 6:30–7:30 p.m.
History
All Saints, the only Catholic church in Spencer County, was built in Taylorsville in 1830 under the leadership of Father James Elliott, its first pastor. Its predecessor, St. Benedict, had been built in 1815 five miles away in Little Mount by Father Charles Nerinckx. The cemetery in Little Mount is still maintained by the parish. Located on a hillside, All Saints Church has stood above many floods in Taylorsville, and the parish has witnessed the burning of the nearby courthouse.
Despite its small size as a minority community in a Protestant county, All Saints has nurtured at least six vocations to the priesthood and numerous vocations to various orders of women religious. The parish has a long history of ecumenical activities. Since 1986, it has had a covenant relationship with Taylorsville United Methodist Church and the First Christian (Disciples of Christ) Church. Among the many interfaith activities, the three churches hold a joint Vacation Bible School and joint prayer services.
Throughout its history, All Saints has alternated between having a resident pastor and being served by priests traveling from Fairfield, Shelbyville, Mount Washington, and as far away as Samuels in Nelson County. The relationship with Saint Michael Church in Fairfield has been particularly important since parishioners attended the school that was in Fairfield for many years. This relationship resumed in 2017 with the assignment of Father John Johnson as pastor of both parishes.
From its original ten families, All Saints has grown to serve more than 400 parishioners, but it has grown gradually enough to maintain a rural atmosphere where most people know one another. The parish offers comprehensive faith formation for all ages and a service-oriented youth ministry while embracing the challenges of its third century.