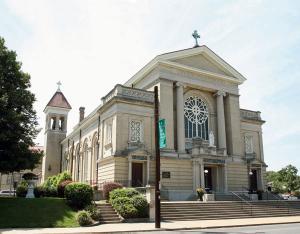 Clergy
Pastor: Rev. Gary T. Padgett
Senior Associate: Rev. Joseph H. Voor
Permanent Deacon: Louis B. Dugan
Mass Schedule
Sundays — Sat evening: 5 p.m.; Sun: 8 a.m., 10:15 a.m.
Holy Days — Vigil: 5 p.m.; Holy Day: 12 noon
Daily — Mon–Fri: 12 noon
Reconciliation
Saturdays — 4–4:30 p.m.
History
St. Brigid Parish, established in 1873 and originally dedicated to Saint Bridget of Sweden, served the residents—many of Irish birth or descent—of an area called "the hill." The first pastor, Father James Ryan, was determined to see the parish grow and thrive. A school opened in 1874; over the years three different congregations of religious sisters—Sisters of Loretto, Dominicans of Saint Catherine of Siena, and Sisters of Charity of Nazareth—oversaw its operations before lay teachers took up its educational mission.
The parish soon grew too large for the original small church, and under the direction of Father Henry Connelly, pastor in 1887, a different site was selected for a second church. Father Connelly also changed the parish patroness to Saint Brigid of Ireland and thus the spelling to its current form.
When the new brick church, with classrooms on the second level, was dedicated in 1890, an article in the Catholic Advocate stated that "a goodly sum was contributed in church by those who attended."
Parishioners' dedication and generosity, along with the foresight of several more pastors, made still a third church, plus a separate school and a convent, possible in 1912. The school closed in 1972 and for some time housed the archdiocesan Catholic School Office.
The gifts of parishioners' time, talent, and treasure has enabled the parish to thrive through good times and bad. Some present members are descendants of founding families.
St. Brigid joined St. James in a two-parish cluster in 1994. It is now part of the Highlands Five, a collaboration with four other parishes. The 950 parishioners participate in joint Lenten missions, Habitat for Humanity, Open Hand Kitchen, St. Vincent de Paul Society, Highland Community Ministries, and other outreach activities that serve the poor. Known for its acoustics, St. Brigid has hosted many concerts in recent years.