Prospect
Established 2008
Registrations: 1885
Address
Saint Bernadette
6500 Saint Bernadette Avenue
Prospect, Ky. 40059-6543
Parish Information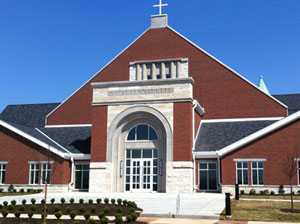 Clergy
Administrator Pro Tempore: Rev. William L. Fichteman
Associate: Rev. Devassya P. Kanattu, C.M.I.
Permanent Deacons: Jerome L. Buehner, Patrick D. Harris
Mass Schedule
Sundays — Sat evening: 5 p.m.; Sun: 8:30 a.m., 11 a.m.
Holy Days — See bulletin
Daily — Mon–Fri: 8:15 a.m.
Reconciliation
Saturdays — 3:30–4 p.m.
Eucharistic Adoration
Tuesdays — 1:30–5 p.m.
History
Archbishop Kelly clustered Mother Of Good Counsel and Transfiguration of Our Lord parishes on June 20, 2007, and Fr. Bill Medley became pastor of both parishes. A merger creating a new parish would follow in 2008. The name of the new church, Saint Bernadette, was chosen on the 150th anniversary of the canonization of Bernadette as a saint and on the 200th anniversary of our Archdiocese of Louisville.
In 2007, the regional Catholic school, Saint Mary Academy, was formed as a result of dialogue between the parishes of Immaculate Conception in LaGrange and Mother of Good Counsel. The name of the new school, Saint Mary Academy, was chosen because it honors Mary, who is both the Immaculate Conception and Mother of Good Counsel. Saint Bernadette is a covenant parish with Saint Mary Academy.
To locate the new St. Bernadette Parish, seven acres of land were donated and five purchased in the growing area of Norton Commons, on the border of Oldham and Jefferson counties.
Father Bill Griner (a retired priest) was enlisted as a senior associate, and Deacons Dan Parker and Dr. Patrick Harris were assigned to the new parish. After a long illness, Father Herb Lattis, the former pastor of Transfiguration Parish, returned to his heavenly Father on April 16, 2008, and his was the first funeral in the newly-formed parish.
On April 26, 2008, Archbishop Joseph Kurtz officiated at the ground-breaking ceremony of the Saint Bernadette Parish Center and Saint Mary Academy. On August 19, 2009, classes began in the new St. Mary Academy building, and on August 31, 2009, the parish staff moved into the complete parish center on the St. Bernadette Parish property in Norton Commons. Saint Bernadette celebrated Mass on two campuses for the first 17 months. On September 19, 2009, members united for Mass at the St. Mary Academy gym.
In February of 2010, Fr. Bill Medley was chosen Bishop of the Diocese of Owensboro, and Fr. Terry L. Bradshaw was named pastor of St. Bernadette Parish.
On May 15, 2011, Archbishop Kurtz officiated at a ground-breaking ceremony for Saint Bernadette Church. The dedication of the new church was held on April 21, 2013.