Immaculate Conception Culvertown
Culvertown, Nelson Co.
Established 1938
Registrations: 106
Please note: parish mailing address is different from its location.
Address
Immaculate Conception Culvertown
8191 New Haven Rd.
New Haven, KY 40051-6030
Parish Information
(Attended from Saint Catherine, New Haven)
Mail to: Immaculate Conception, c/o St. Catherine, 413 N. First St., New Haven, KY, 40051-6392
Phone: (502) 549-3680
Fax: (502) 549-5410
Email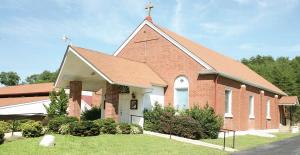 Clergy
Administrator: Rev. Christopher B. Lubecke
Permanent Deacon: W. Arnold Downs
Mass Schedule
Sundays — Sat evening: 5:30 p.m.; Sun: 7 a.m.
Holy Days — See bulletin
Daily — See bulletin
Reconciliation
Saturdays — 3 p.m. at St. Catherine, New Haven
Eucharistic Adoration
Sundays — 3 p.m.
History
When Immaculate Conception was first established as a mission in 1927, Mass was celebrated in the "Old School House" in Culvertown. However, the members wanted their own church, and with the help of the pastor and parishioners of St. Thomas Parish in Bardstown, they began construction in 1938. With the structure completed in 1939, volunteers built the benches, the confessional, and a cellar, and they painted and set up the altar. Archbishop John A. Floersh blessed the church in 1934, and parishioners erected the Stations of the Cross in 1939, undertaking the construction of a gymnasium and cafeteria, finished in 1960.
After many petitions and visits to the Archbishop, a resident priest was assigned to the mission, which attained parish status in 1938. Father Bertrand Brian, the first pastor, lived in a trailer and slept in the church sacristy while a rectory was under construction. A generous donation from St. Francis of Assisi in Louisville helped to make the construction of the rectory possible.
The Altar Society helped to furnish the rectory. The old school was demolished, and parishioners constructed three school rooms adjoining the gymnasium and cafeteria. Immaculate Conception School operated from 1957 to 1970 and was staffed by the Sisters of Charity of Nazareth. These school rooms now house the parish's religious education program. During a 1973 renovation of the church, Mass was celebrated in the gymnasium.
After St. Mark in Greenbrier was closed, Immaculate Conception, which had been a stand-alone parish, was clustered with St. Catherine and St. Vincent de Paul in 2005. Father Lawrence Lindle, as the administrator of the clustered trio, pledged Immaculate Conception's financial support to St. Catherine School, which allowed it to continue to operate. Today, Immaculate Conception and St. Catherine continue to be clustered.
A strong religious education program and devotional life characterize this close-knit parish of almost 400 parishioners.