Most Reverend Joseph E. Kurtz, D.D.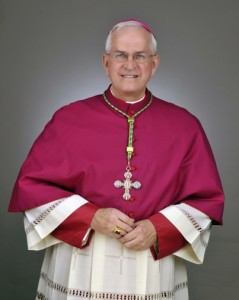 His Holiness Benedict XVI appointed Most Reverend Joseph E. Kurtz, D.D. as the fourth Archbishop and ninth bishop of the Archdiocese of Louisville on June 12, 2007. He was installed as Archbishop of Louisville on August 15, 2007. Before coming to Louisville, Archbishop Kurtz served as Bishop of Knoxville from 1999 to 2007.
Born on August 18, 1946 in Mahanoy City, Pennsylvania, Archbishop Joseph E. Kurtz earned bachelor (1968) and master of divinity (1972) degrees from St. Charles Borromeo Seminary in Philadelphia and a master's degree in social work from the Marywood School of Social Work in Scranton, Pennsylvania, in 1976. Archbishop Kurtz was ordained a priest for the Diocese of Allentown on March 18, 1972.
Before becoming Bishop of Knoxville, Archbishop Kurtz served for 27 years in the Diocese of Allentown, Pennsylvania, in charge of social services, diocesan administration, and parish ministry. He was pastor of Notre Dame of Bethlehem Parish in Bethlehem, PA, from 1996 to 1999, and St. Mary Parish in Catasauqua, PA from 1988 to 1996, associate director and later executive director of the Catholic Social Agency and Family Life Bureau from 1976 to 1994, and diocesan coordinator for health affairs from 1991 to 1998.  He taught at both Mary Immaculate Seminary and St. Pius X Seminary. Archbishop Kurtz received the distinguished title of monsignor in 1986.
Archbishop Kurtz has served on numerous boards, including service on the Pennsylvania Catholic Conference from 1977 to 1998, as the president of the board of directors of the Catholic Social Agency from 1988 to 1999, and in Knoxville, as a member of the Association of Christian Denominational Leaders from 2000 to 2007. He was a member of the 2002 class of Leadership Knoxville, and he served as Vice President of the United State Conference of Catholic Bishops from 2010 to 2013.
Elected President of the United States Conference of Catholic Bishops on November 12, 2013, Archbishop Kurtz serves on the executive and administrative committees of that body. He is the vice chancellor of the board of the Catholic Extension Society. He serves on the Board of Trustees of the Catholic University of America and on the Board of Directors of the National Catholic Bioethics Center. He also serves on the boards of St. Charles Seminary (Philadelphia, Pennsylvania), Leadership Louisville, and on the Advisory Board to the Cause for Archbishop Fulton Sheen's beatification.
Archbishop Kurtz is the son of the (late) George and Stella (Zmijewski) Kurtz and the brother of (the late) Rosemarie Quinn, Patricia Cameli, Theresa Bakos, and (the late) George S. Kurtz.
The oldest Roman Catholic Archdiocese west of the Appalachians, the Archdiocese of Louisville was founded as the Diocese of Bardstown in 1808, transferred to Louisville in 1841, and elevated to Archdiocese in 1937. The Archdiocese covers 24 counties and hosts a Catholic population of more than 200,000 individuals.
January 2014
Follow the Archbishop on Twitter and Facebook
(Beginning in August 2013, Archbishop Kurtz's columns are incorporated into his blog.)