The Faith Channel is an interfaith religious cable television ministry. Established in 1987, this unique channel was made possible through a generous grant from the Mary and Barry Bingham Sr. fund. The Faith Channel is operated by the unique partnership of the Roman Catholic Archdiocese of Louisville, The Baptist Consortium and the Louisville interfaith community.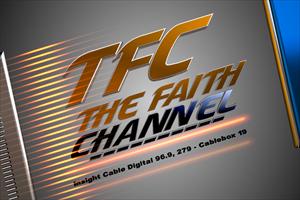 The guiding mission of The Faith Channel is to:
♦ Communicate diverse religious beliefs to the community.
♦ Provide wholesome family entertainment.
♦ Provide a vehicle to share the vitality of the faith communities.
♦ Raise the moral and ethical consciousness of the community.
The Faith Channel is committed to high-quality, value-guided programming that respects the diversity of its members and will not accept programming that:
♦ Engages in proselytizing.
♦ Attacks or demeans other religions or religious traditions.
♦ Engages in on-air solicitation of funds for a particular congregation or religious body.
♦ Endorses political candidates or parties.
The Faith Channel can be seen twenty-four hours a day, seven days a week and is part of the basic service package offered by Insight Cable. The Faith Channel offers a variety of quality, locally produced programs as well as programming from national satellite sources including EWTN (Roman Catholic) and Family Net (Interfaith). The Faith Channel offers a rich mix of faith and values-based entertainment, music, drama, children's programs and public affairs programs in addition to inspirational bible study and worship services.
Faith groups represented on The Faith Channel include Roman Catholic, Southern Baptist, Presbyterian, United Methodist, General Association of Baptist, Jewish, Disciples of Christ, Eastern Orthodox, Episcopal, Lutheran, the United Church of Christ, the Salvation Army and many others.
The Faith Channel is considered a model for interfaith cooperation in religious and family-based television.
Television Program Features Archbishop Kurtz
Archbishop Joseph E. Kurtz talks with host Dr. Brian Reynolds about various topics on the television program, Conversations. Available on television, radio, and via webcast or audio/video podcast. Click here for links and more information. Also listen to Archbishop Kurtz praying the rosary here.
Contact Us
The Faith Channel
1930 Bishop Lane
Suite 403
Louisville, KY 40218
Email
Phone: (502) 479-3001