Archbishop Kurtz reflects on his beloved brother George who passed away 10 years ago today (1-27-12).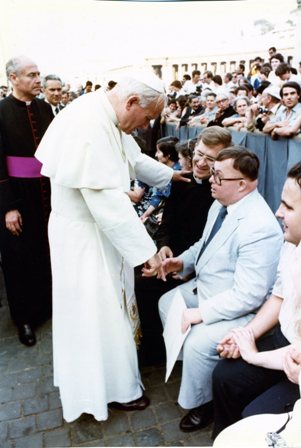 "You're the big brother. You will have to look after Joe." My sisters spoke, pretending to be serious, and exchanging playful glances with each other and me.
On this good advice, my brother George, who is 48 years old and has Down Syndrome, came to live with me at St. Mary's Rectory in Catasauqua, Pa. Little did we realize how true these words would become.
At the rectory, Georgie has contributed in countless ways. He is a community builder par excellence. Two weeks had not gone by before he had given each person on the rectory staff a nickname. In the Old Testament, God gave Abram a new name to claim him as his own, and so Georgie quickly claimed us as part of his family.
Through a playful "boo," an occasional hug, and a pat on the back, Georgie brought to the rectory an ease that became infectious. He became a co-worker. Recently, when he announced that he would be going for a week's vacation with one of his sisters, everyone was up in arms at what they would do while he was gone.
He is a friend in the evening. I now know the TV schedule for most evenings after 9:30 p.m. (I have not had a schedule down this well since eighth grade.) This has been a time to stop and pause and enjoy. From the very beginning, Georgie knew what we have just slowly discovered in four months — that he is looking after me and so many others.
Recently, after celebrating a Mass for our dear mother, I must have looked a little down to him. He gave me a pat on the back and said, "Don't worry. Mom is in heaven. You have me." Giving and receiving are intertwined. We never do one exclusively. In the case of my relating to my brother, it is not a cliché to say I have received much more than I have given.
That's the nature of Christian community. The love of Christ calls all of us to be good givers and good receivers and so to love.
Monsignor (now Archbishop) Joseph E. Kurtz, D.D.
Catholic Digest, 1990, reprinted with permission.