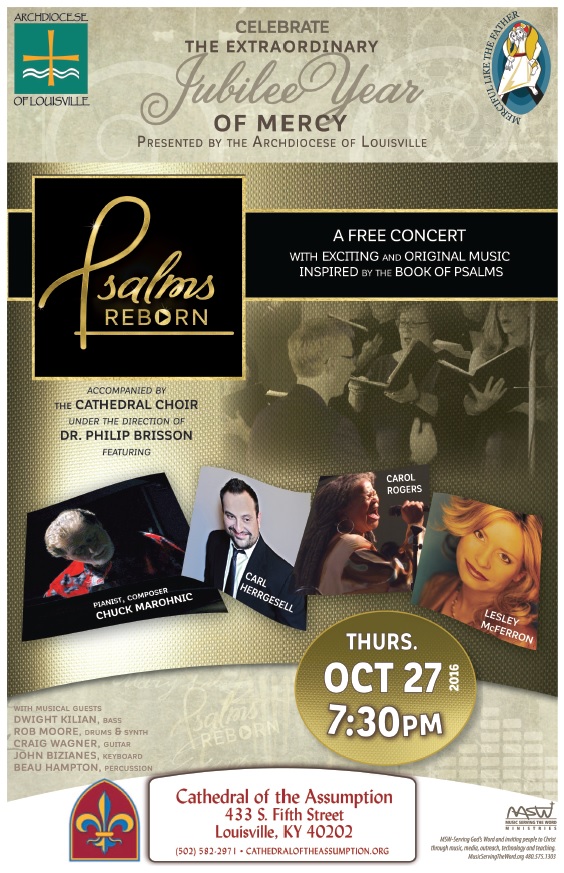 Everyone is invited to Psalms Reborn, a free concert of exciting and original music inspired by the Book of Psalms.  The event is presented by the Archdiocese of Louisville in celebration of the Extraordinary Jubilee Year of Mercy and takes place at 7:30 p.m. on Thursday, October 27, 2016 at Cathedral of the Assumption, 433 S. Fifth Street, Louisville, KY 40202.
Psalms Reborn features renowned vocalists Carl Herrgesell, Carol Rogers, and Lesley McFerron, accompanied by composer/pianist, Chuck Marohnic.  The concert will explore the depth and beauty of the Psalms, using the language of modern music, with an emphasis on Psalms describing God's mercy.  Psalms Reborn will be presented at The Cathedral of the Assumption, and will also include the participation of the Cathedral Choir and Cathedral Singers under the direction of Dr. Philip Brisson.
Chuck Marohnic's career spans more than four decades as a respected pianist, educator, author, director, composer and arranger.  Also the Emeritus Director of Jazz Studies at Arizona State University, Marohnic is featured on more than fifty CDs and has published fifteen books.  Marohnic launched Psalms Reborn (previously called The Jazz Psalms Project) after reflecting on the original Psalms of the Bible, which were written as musical compositions to be sung, not merely read.
Remarkably, Marohnic has written original compositions for all one hundred-fifty Psalms in five years. Each song is being recorded by Music Serving the Word Ministries (MSW) and are available to church musicians and worship teams that want to explore a new way of presenting these ancient scriptures. MSW's mission is to "serve God's Word and invite people to Christ through music, media, outreach, technology and teaching."
Bible scholars agree that the Holy Bible's Book of Psalms began over 3,000 years ago as a collection of poems that were sung and accompanied by various musical instruments within the context of Hebrew worship.  The origins of Psalm Reborn can be traced to a moment when Marohnic was meditating on one of the Psalms.  "A strange thing happened," Marohnic relates.  "I actually began to hear the words of the Psalm as music.  I proceeded to write down the music I had heard and thus began the project."
Psalms Reborn presents a stellar group of singers for this special concert.  Carol Rogers has sung throughout the world, singing with performers such as Sergio Mendes. Carl Herrgesell is a well-known songwriter/singer and keyboardist who toured with Kenny Loggins for five years, and is the featured pianist on several albums by contemporary Christian singer, Kathy Troccoli.  Lesley McFerron is a sought-after vocalist who has recorded for top-shelf Nashville songwriters and is the owner/director of acclaimed vocal academy, Sing USA.
People attending the Psalms Reborn will hear an entirely fresh interpretation of the Psalms, delivered via the language of modern music, influenced by jazz, rock, funk, R&B, and world music.
For more information about this event: www.cathedraloftheassumption.org (502) 582-2971 or www.musicservingtheword.org (480) 575-1303
For more  about Chuck Marohnic: www.chuckmarohnic.com