Gaudete: The Crib Has the Secret of Joy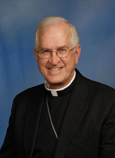 by Archbishop Joseph E. Kurtz
I just put out my only decoration for Advent/Christmas in my chapel at home. It is a simple Nativity scene with Jesus in the crib, Mary, and Joseph. The three magi remain in the bookshelf where the set rests year round — the Magi will come out between Christmas and Epiphany.
Somehow on Gaudete Sunday (celebrated just a few days ago) it seemed right to put out this decoration. The Entrance Antiphon for last Sunday said it all: "Rejoice in the Lord always; again I say, rejoice. Indeed, the Lord is near." (Philippians 4:4-5)
I recall buying the three figures for my mother when I made my first trip to Rome in the early 1980s. They always sat on the same table and meant a lot to me when I came home for Christmas. When she died in 1989, my brother and I began our own Christmas tradition with them, and now they are displayed on a shelf in my living room.
Every Advent I bring them to my chapel as a simple way to decorate my rooms. Their simple presence has made me reflect each year on the simplicity of that first Christmas, and I feel the bond to those without adequate housing.
As I travel from parish to parish, I am amazed at the many opportunities for parishioners to do as Christ told us: to see his face in the least and so be in solidarity with people in need. The silence of the crib invites us to go deeper and discover our own poverty, which urges our reaching out to the impoverished of this world.
This year as I was about to put my Nativity figures in my chapel, I received an email from our Vicar General, Father Mark Spalding, who shared a wonderful reflection of Pope Benedict XVI on the joy of the crib. This meditation fits perfectly with Gaudete Sunday and provided wonderful inspiration for my prayer and reflection:
"The crib is a school of life where we can learn the secret of true joy. This does not consist in having so many things, but in feeling loved by the Lord, in becoming a gift for others and loving one another. Let us look at the Nativity Scene: the Virgin Mary and St. Joseph do not seem like a very lucky family; they had their first child in the midst of great hardship, and yet are filled with deep joy, because they love each other, help each other and, above all, are certain that in their history God is at work, present in the Infant Jesus. And the shepherds? What reason would they have to rejoice? That baby will not change their condition of poverty and marginalization. But faith helps them to recognize in the 'infant wrapped in swaddling clothes, lying in a manger', the 'sign' of the fulfillment of the promises of God for all men 'whom he loves' (Luke 2,12.14), even for them!"
"This, dear friends, is what true joy is: the feeling that our personal and community lives are visited and filled by a great mystery, the mystery of God's love. We need more than things to rejoice, we need love and truth: we need a God close at hand, who warms our hearts and responds to our deepest yearnings. This God was manifested in Jesus, born of the Virgin Mary. So that Child, that we put in the manger or cave, is the center of everything, he is the heart of the world. We pray that every man, like the Virgin Mary, may accept as a center of their lives the God who became a Child, the source of true joy."
May this season of Advent lead you to experience more deeply the "joy of the crib" that overflows into grateful serving of others.