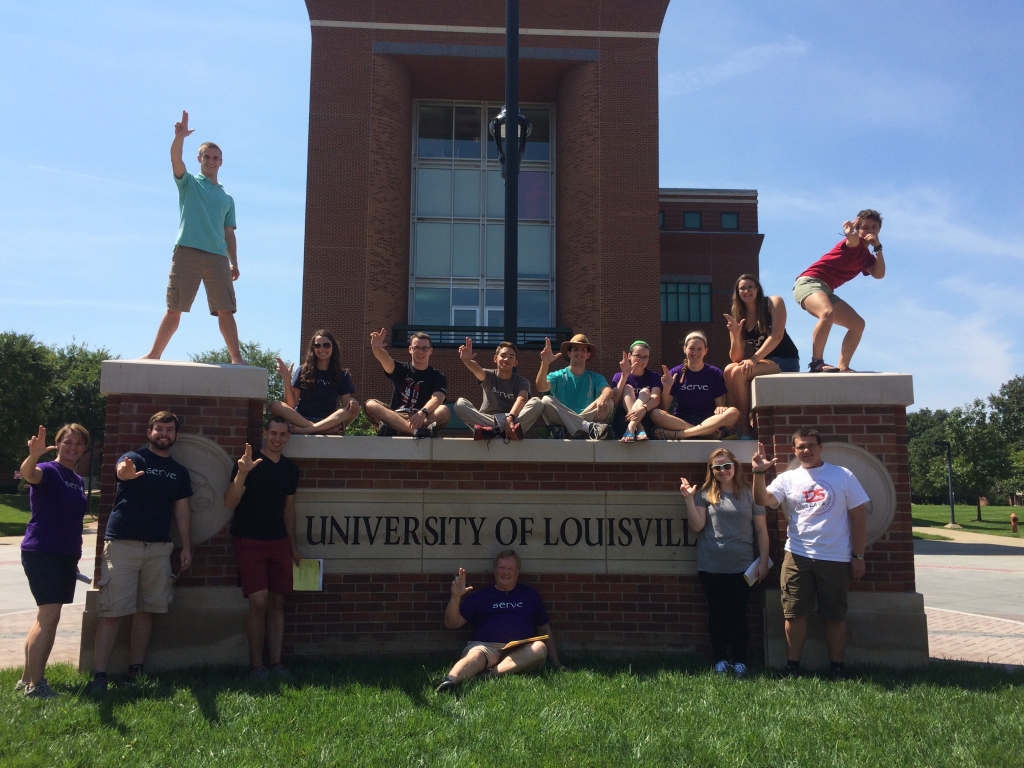 The Impact of Catholic Campus Ministry at UofL
Here are four brief reflections from students about the Catholic Campus Ministry here at the University of Louisville. It's obvious that our faith is precious to these young adults.
Katelyn Schreiver (5th Year, University of Louisville Speed School):
The night before moving away to college, I remember the fears I held. I feared classes would be difficult and overwhelming or that I wouldn't be able to find my way through campus. But my biggest fear was leaving the comfort and support of my family and friends. All these things did happen. My first year of engineering school brought challenging course work, and I spent the first few weeks homesick. But as the year progressed, I found I could rise to the demands of my classes, and by the middle of my second semester I found a community in Catholic Campus Ministry (CCM) that I could belong to. I count this as one of the biggest blessings of my college experience. The space created by the ministers and fellow students allowed for me to grow as a person and in relationship with God. Now, as a graduate student, I cannot imagine what my life would look like without this group of people who offer support, encouragement, and a good laugh when I need it. I thank God for the blessing of my second home.
Tom Ryan (Sophomore, University of Louisville Speed School):
I personally really enjoy the service opportunities that we do here with Catholic Campus Ministries at U of L. We participate in all sorts of service, such as praying the rosary in front of the abortion clinic in downtown Louisville, working at the Cathedral's soup kitchen, St. Elizabeth's Maternity Center, and with Habitat for Humanity. Working with Habitat is probably one of my favorite things to do as I enjoy working with my hands. The job site leaders are always so kind and informative, both about the family who is going to live there and Habitat in general, and I always learn something new when I work with them. I've learned how to do roofing work, shelving, putting in baseboards, and much more. I always look forward to going back and can't wait until spring break when we take a week to work with campus ministry in a needy area.
Joe Raub (2015 University of Louisville graduate):
The University of Louisville Catholic Campus Ministry recently hosted a retreat at the Abbey of Gethsemani in New Haven, Kentucky. The day was spent silently meditating within the retreat garden and hiking trails of the abbey. As a college student, silence is rarely capable of being attained. The trails wind through the knobs of Kentucky and have many statues of Jesus, Mary, and various saints along the way.  The retreat truly allows a student to recharge from the draining daily actions of class, studying, and living the college life. A day of prayer and being able to listen to God is needed for any Catholic, especially a college student, to continue their path towards the Father. The retreat to Gethsemani allows this need to be met.
Ben Vivona (Senior, University of Louisville, Computer Information Systems Major):
Every year the students of the Interfaith Center (generally the majority of whom are from U of L Catholic Campus Ministry) go on an Alternative Spring Break Trip. It provides a great opportunity for community building within our group as we work on roofing a house, demolishing walls, or any other kind of project we might be given when we get to a worksite. The theme of the trip is always to come as servants, not as saviors. We talk about the Archbishop Oscar Romero prayer that says "We water seeds already planted, knowing that they hold future promise. We lay foundations that will need further development."  When we go on Alternative Spring Break we put the focus on helping the community and the community helps us grow in our trust and respect for one another.