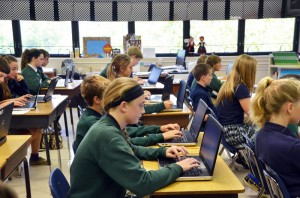 By Ruth Matheny
This article is reprinted with permission from Today's Catholic Teacher, October 2014. St. Patrick was named as the publication's "School of the Month."   
Inspired by the life and prayer of its patron saint, St. Patrick Catholic School in Louisville, KY, challenges students to fulfill both their intellectual and their human potential. In the two decades since its founding, the school has tripled its enrollment, doubled its staff, and effectively established its Catholic identity in the Archdiocese of Louisville.
In the words of Dr. Michael Bratcher, principal: "The Catholic identity and culture at St. Patrick Catholic School can be understood as the presence or ethos driven by our Roman Catholic beliefs and values. It is experienced from the moment one enters the environment of our school."  
Notes fourth-grade student Bailey Ramirez, "Every student feels welcome and enjoys coming to school each day."
In partnership with the parish and neighboring communities, St. Patrick provides students with exceptional spiritual and academic programs. Every aspect of every program and activity is guided by the school's core values: a life devoted, a life guided, a life informed, a life engaged, and a life inspired.
The school's Catholic identity permeates school activities. A vibrant religious education program involves instruction, prayer, and sacramental life at every level. Grades take turns hosting the monthly school Mass. In the Rosary Club, members not only pray the rosary but make rosaries for the use of others. The value of a life devoted is further enhanced by the presence of five Benedictine nuns on the school faculty.
To provide a life guided, a school must have qualified teachers. At St. Patrick, 87 percent of the teachers have a master's degree or beyond, while more than half have devoted 15 years or more to Catholic education. The staff also includes a full-time counselor and a learning support coordinator.
The outstanding test scores of students, which consistently range in the top 10 percent nationally, and the honors gained in scholastic competitions attest to the evidence of a life informed. St. Patrick offers to all students Spanish, art, music, physical education, and computer technology.
The ongoing Refresh program, which allows the school to purchase new computers and technology, energizes teachers and electrifies students in a life engaged in today's world. They create videos, make peer-to-peer presentations, and even communicate with students living outside the country.
More than a decade ago, Susan Reuter created the Step-by-Step Student Stewardship program to inspire students to awareness and knowledge of the needs of others. Guided by the value of a life inspired, students go beyond the classroom into nursing homes, soup kitchens, food pantries, and other situations of need. Their outstanding stewardship brought recognition to St. Patrick Catholic School in 2006 when they received the Catholic Schools for Tomorrow award from Today's Catholic Teacher.
Says Sr. Doris Schepers, current director of the program, "The students of all ages and grade levels see the joy in the faces of those they serve. That is all the inspiration they need."
As St. Patrick's vision statement notes, "staff members promote critical thinking, teamwork, leadership, and personal investment in a quality education." The school's leadership structure is shared through a four-member leadership team and a principal staff committee, currently Dr. Michael Bratcher, principal; Lisa Kelly, assistant principal, Jaime Kayrouz, guidance counselor; and Sarah Yungwirth, learning support coordinator.
Perhaps the real test of the school's success comes in this comment by Sophie Ritzenthaler, a seventh-grade student: "St. Patrick Catholic School is a fantastic place to learn and to develop your faith. I absolutely love coming to school every day."