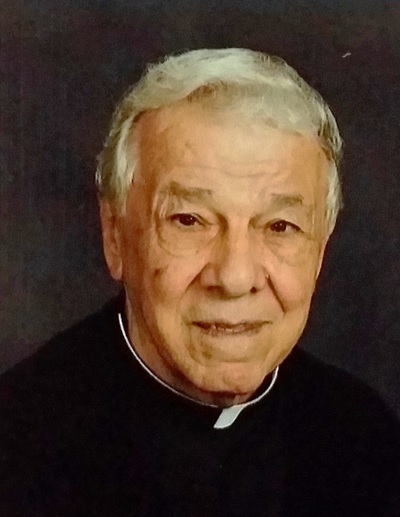 Date of Birth:  3/30/1927
Date of Ordination:  10/21/1951
Date of Death: 11/20/2017
Reverend John Miles, C.R., senior associate pastor at Saint Margaret Mary Church, died November 20, 2017. He was 90 years old.
Born in London, Ontario to Joseph and Mary (nee Parisi) Miles, Fr. John attended elementary school at Sacred Heart and St. Michael's and secondary school at De La Salle High School.  He continued his studies at St. Peter's Seminary where he studied canon law as part of his theological studies.  He obtained a bachelor of arts degree in philosophy from the University of Western Ontario.  In 1952-53, he acquired his teaching certificate.
He first professed his vows on September 8, 1948 in Dundas, Ontario and was ordained to the priesthood on October 21, 1951 in London, Ontario.  After a long teaching career, parish work, and serving as a preacher for Food for the Poor (18 years), Fr. John retired and became a Senior Associate Pastor at St. Margaret Mary in our Archdiocese in 2006.
The Mass Christian Burial will take place this Friday, November 24th at 6:00 p.m. at St. Margaret Mary on Shelbyville Road.  Visitation will be in church from 1:00-5:30 p.m.  A private burial will take place on Saturday in the Resurrectionist section at Calvary Cemetery.