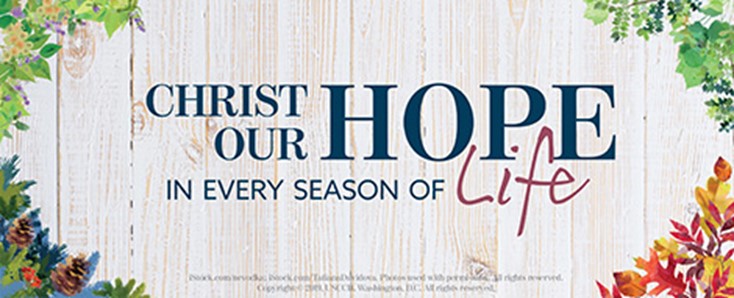 Each October, the Catholic Church in the United States celebrates Respect Life Month to proclaim the immeasurable value of every person from conception to natural death.
The U.S. Conference of Catholic Bishops assists parishes, schools and other Catholic ministries by creating resources to help people "understand, value and become engaged with supporting the God-given dignity of every person – which naturally leads to protecting the gift of every person's life" through its Respect Life Program.
Chairman of the USCCB Committee, Archbishop Joseph Naumann, encourages us by proclaiming, "I would like to take this opportunity to thank you for all you do to build a culture of life on a daily basis. Your efforts on behalf of the unborn, the dying, the elderly, the imprisoned, the poor and so many others have a profound impact, both now and in the life to come." ​
This year's theme, Christ Our Hope: In Every Season of Life, is particularly suited for the times in which we live. The attacks against human life seem to grow more numerous and callous by the day. Despite these challenges, we know that Christ has conquered sin and death once and for all. Through our Christian hope in the Resurrection, we are given the grace to persevere in faith. Our sacrifices on behalf of the Gospel of Life can contribute to the redemption of this current culture of death.
​During the 2019-2020 Respect Life Program cycle, we also celebrate the 25th anniversary of the papal encyclical Evangelium vitae (The Gospel of Life), written by St. John Paul II. The Church's teaching on the value and inviolability of every human life remains an indispensable source of truth for all people. As Evangelium vitae highlights, "together we may offer this world of ours new signs of hope, and work to ensure that justice and solidarity will increase and that a new culture of human life will be affirmed, for the building of an authentic civilization of truth and love" (EV 6)."
​We invite all parishioners to attend the following Respect Life events showcase a spectrum of the life-affirming issues:
Respect Life Month
USCCB 2019-2020 Respect Life Program
Respect Life Month (October) Events – Sponsored by the Pro-Life Office
Foster Care Awareness Event – Thursday, October 10 (7:00 – 8:30PM) – St. Margaret Mary Parish
9,500 hundred children are in foster care in our state.  Sadly, that is up from 8,000 less than two year ago.  Much of that increase is due to the opioid epidemic that is skyrocketing. Obviously, we need more foster parents, but there are many other ways to get involved such as being a mentor or just volunteering to spend time with one of these children.
The Foster Care Awareness event will feature talks with:
Representative from the state Cabinet for Health and Family Services
Darren Washausen, Executive Director, Orphan Care Alliance, whose mission is to equip Christians and connect them to opportunities to serve children in Foster Care.
Touching stories from Foster Parents.
Ed Harpring, Pro-Life Coordinator for the Archdiocese of Louisville, will discuss other ways to volunteer, mentor, and creative ideas for helping foster-care children.
Light refreshments will be served.
Mass for Mothers and Fathers Who Have Lost a Baby Through Miscarriage, Stillbirth or Early Childhood – Sunday, October 13 (7:00PM) – Chapel in the Woods at Bellarmine University.
The Mass is a way to bring God's healing and grace to a very difficult situation. In addition, the Calvary Cemetery offers a monthly prayer service at the Holy Innocents Section of the cemetery, for families to remember those children who were stillborn or who died at a very young age. Last Wednesday of each month at 1:30 p.m.
A Catholic Perspective-Understanding and Preparing for End of Life Decisions Tuesday, October 8 – (7:00 – 9:00PM) St. Gabriel Parish.
Topics covered will include End-of Life Ethics, Advance Directives, Health Care Proxy, Extraordinary vs. Ordinary Care and first-hand end of life experiences from our panel of experts including:
Fr. Patrick Dolan (STL in medical ethics and STD in Moral Theology from Angelicum University in Rome)
Mike Ahrens, Member of St. Albert the Great Parish, retired Director of Mission & Values Integration at KentuckyOne Health. Served on the medical ethics committees of several area hospitals.
Made for More Follow-up – Theology of the Body Overview – Holy Family Parish October 22 – (7:00 – 9:00PM)
Theology of the Body Answers the Ultimate Questions of Life:
"Where do we come from?" "Where are we going?" "What is our origin?" "What is our end?" "Where does everything that exists come from and where is it going?" The two questions, the first about the origin and the second about the end, are inseparable. They are decisive for the meaning and orientation of our life and actions. (CCC 282).
Helpers of God's Precious Infants – Saturday, October 12 (7:00 AM) Cathedral.
Please join us with to pray for an end to abortion and celebrate the gift of Life with Mass, Rosary Procession and Benediction. In the words of Helpers founder, Fr. Philip Reilly, "we need to be witnesses to God's Light at the foot of the cross at the abortion mill – modern-day Golgotha." A priest from St. Louis Bertrand Parish will be the celebrant.
40 Days for Life – September 25 – November 3
Christians across the country and the world are invited to take part in the international 40 Days for Life effort from September 25th – November 3, 2019.
40 Days for Life is a focused pro-life campaign with a vision to access God's power through:
Prayer,
Fasting,
Peaceful Public Vigil
Please sign-up for an hour of prayer at https://40daysforlife.com/local-campaigns/louisville/