Catholic Men's Conference 2017
After 12 noon on 3/17, registrations and payments will only be accepted at the door.
The 2017 Catholic Men's Conference "Go Be The Difference"
Our Lord literally commands us to "Go!" and move out of our comfort zone into the world to make a difference in our families, with our friends, and at work.  Fr. Dave will delve into the important keys to deepening your faith, living it in all areas of your life and even sharing it with others.
March 18, 2017 from 8:00 a.m. to 1:00 p.m.
St. Michael Catholic Church
3705 Stone Lakes Drive
Louisville, KY 40299
Early registration: $30 Adults; $15 Students
At the door: $40 Adults; $25 Students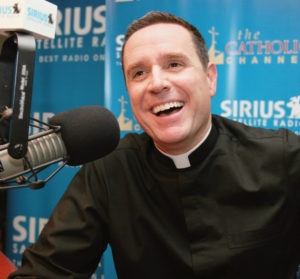 Keynote: Fr. Dave Dwyer, CSP
Fr. Dave Dwyer, CSP is Director of Busted Halo, a media outreach of the Paulist Fathers. He is publisher of BustedHalo.com; he hosts "The Busted Halo Show" nightly on SiriusXM radio, cohosts "Conversation with Cardinal Dolan" on EWTN, and has appeared in/on CNN, Fox News, The History Channel, NBC News, Entertainment Tonight, The New York Times and The Daily Show.  He worked in campus ministry at the Universities of Colorado and Texas, and developed ministry programs for the Military Archdiocese.  Prior to ordination he directed television for MTV and Comedy Central.
You will have the option to pay online, pay at the door or mail a check payable to Archdiocese of Louisville – CMC at:
Flaget Center
1935 Lewiston Drive
Louisville, KY 40216
For further assistance please contact Lynn McDaniel at 502-448-8581 or lmcdaniel@archlou.org.
Sponsors: