"Welcoming, protecting, promoting and integrating migrants and refugees"
In 2004, the Catholic bishops of the United States committed to immigration reform as a priority of the U.S. Catholic Church, and to creating a culture of welcome in which all migrants are treated with respect and dignity. A diverse group of Catholic organizations with national networks joined the U.S. Catholic bishops' Justice for Immigrants Campaign (JFI) in an effort to unite and mobilize a growing network of Catholic institutions, individuals, and other persons of goodwill in support of immigration reform.
Migration and Refugee Services is charged with assisting the bishops in the development and promotion of migration policy positions within the context of the Church's social teaching.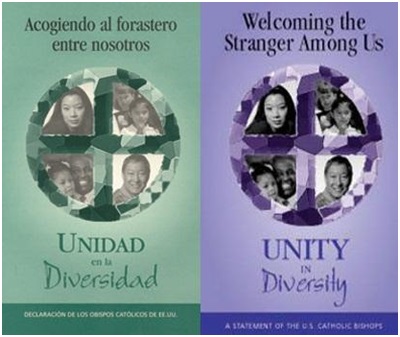 On June 2, 2000, the Jubilee Day for Migrants and Refugees, Pope John Paul II celebrated the Eucharist in St. Peter's Square for over 50,000 migrants, refugees, people on the move, and their chaplains from all over the world. The Eucharist drew that great diversity of people into unity in the communion of Father, Son, and Holy Spirit, realizing a Jubilee Year hope for the Church: "to gather into one the dispersed children of God," "to sum up all things in Christ, in heaven and on earth" (Jn 11:52; Eph 1:10).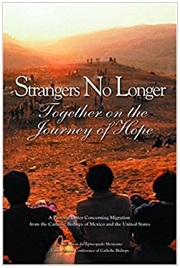 "Strangers No Longer: Together on the Journey of Hope" is a pastoral letter written by both the United States Conference of Catholic Bishops and the Mexican Episcopal Conference. It was published on 22 January 2003 and deals with the issue of migration in the context of the United States and Mexico.
This colorful, eight-panel brochure on migration will foster community discussion and reflection.
The "Welcoming the Refugee and Migrant" brochure presents Church teaching on hospitality to the stranger.
As refugees and migrants flee their homelands toward new places that offer the hope of safety and security, this community dialogue is needed more than ever!
This brochure ties into the "Share the Journey" campaign in the United States, which begins in late September 2017 and will go through 2019. The campaign encourages migrants and host communities to share together the communities' stories of migration.