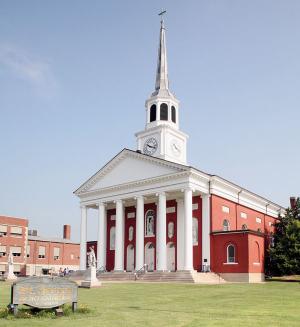 During the years 1816-19, St. Joseph Cathedral was constructed in the recently established Diocese of Bardstown and was dedicated by Bishop Benedict Joseph Flaget on August 8, 1819. It served as the seat of the Diocese until 1841, at which time Bishop Flaget moved to the seat to the growing metropolis of Louisville. In anticipation of the 200th anniversary of its dedication, the Basilica of St. Joseph Proto-Cathedral is celebrating with a series of monthly community events and activities that will culminate in August 2019.
An interview with Rev. Terry Bradshaw, pastor of Basilica of St. Joseph Proto-Cathedral in Bardstown, KY:
How long have you been at the Basilica of St. Joseph?
I have been at St. Joseph for 3 years as pastor. I was the associate pastor for two years in 1985-87. I truly enjoy being back in this community, especially at this exciting time!
What is your favorite part about the parish?
My favorite part of the parish is its people and its rich history. This wonderful community is celebrating 200 years! I have had so many conversations with people and enjoy hearing their stories. Everyone is welcoming and they are willing to embrace the words and life of Jesus Christ. There have been so many positive changes to this parish over the years, which is only natural as the community evolved from a pioneer settlement to a well-established community of worship, learning, and outreach.
What events will be taking place for this 200th anniversary celebration?
Monthly events have already been taking place and many more are planned. People can check the calendar for the following events:
| | | | | |
| --- | --- | --- | --- | --- |
| MONTH | DATE | TIME | EVENT TITLE | DESCRIPTION |
| January | 1/6/2019 | 3:00 pm | Built to Sing | All choirs and Christmas music through history |
| February | TBD | TBD | Built to Remember | History series of St. Joseph Church |
| March | 3/10-16/2019 | | Built to Pray | Hours of prayer for parish |
| April | TBD | TBD | Built to Plant/Grow | Earth Day – SJ School to plant trees |
| May | 5/5/2019 | 3:00 pm | Built to Praise God in His Sanctuary | Mid-KY Chorus music performance |
| June | 6/8-23/2019 | | Built to Remember | Archives display |
| July | 7/24/2019 | 3:00-7:00 pm | Built to Gather | Back-to-school social event |
| August | 8/18/2019 | 4:00 pm | Built to Celebrate | Closing Mass and dedication of baptismal font with a meal to follow |
What can people expect from this anniversary celebration?
During this year of anniversary celebration, people can expect a deepening sense of purpose focused on what we are "built for." We have already had our built to celebrate, gather, grow, and honor events, so people are really getting into the spirit of things. We still have quite a few events left so it is almost as if we are just getting started with all of the celebrations and joyous moments.
What effect does an event like this have on the community?
In our community, we hope there is an awareness of our inter-faith values and opportunities to make a positive difference. There is such a wide variety of events, such as remembering, growing, learning, and planting. It is sure to ignite the community and those who are in it.
What are you looking forward to most during this anniversary celebration?
I look forward to the culmination celebration on August 18, 2019 and those who will honor us with their presence and prayers. There is going to be a closing Mass that day with a dedication of the baptismal font. We welcome everyone to join us that day and to stay after for a meal. It should be a great event and an enjoyable way to kick off the new school year.
What would you like to see for the Basilica of St. Joseph during the next 200 years?
In the next 200 years, I hope we connect future generations with Christ and help them embrace their part in God's plan. This parish has been able to do so much and I know there is more to do. Every year going forward I hope we can continue to be built to celebrate, gather, grow, honor, share, sing, remember, pray, plant, praise God, and celebrate!