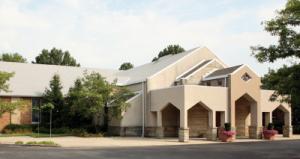 Clergy
Pastor: Rev. William P. Burks
Permanent Deacons: James I. McGoff, James Stanford
Mass Schedule
Sundays — Sat evening: 5 p.m.; Sun: 8:30 a.m.
Holy Days — See Bulletin
Daily — Mon: 8 a.m.; Wed 8 a.m.; Fri 8 a.m., Sat (First-Fourth): 8 a.m.
Reconciliation
Saturdays — 4 p.m.
History
St. Pius X served the rapidly growing Catholic population settling in Buechel-Hikes Point at its establishment in 1956. Father Charles Foltz, the founding pastor, and Archbishop John A. Floersh agreed upon the name honoring Saint Pius X, called "The Children's Pope," for lowering the age when children could receive First Communion. Like the saint, Father Foltz greatly loved the Eucharist, and at one time the parish was known for the city's largest number of communicants.
Parishioners celebrated Mass at "Saint Goldsmith," a building across the street from where the Father Foltz and the "parish pioneers" worked side by side building a concrete church that was dedicated in December 1956. St. Pius School opened in 1957, staffed by the Sisters of Charity of Nazareth.
The priest and parishioners built an enduring legacy of collaboration and spirituality. The Altar Society sponsored card parties in homes to buy linens and china for the rectory. A parishioner fashioned the stone cross near the school entrance. The Booster Club built the bleachers, the addition to the cafeteria, the press box, and an athletic field. In 1987 a new community center was constructed, and the old convent, which housed parish offices, was renamed the Sarto House. The church was renovated and was rededicated on May 31, 1987.
St. Pius X School has educated two generations, supported by adult volunteers. In 2006, St. Pius continued its strong legacy of Catholic education by joining with St. Barnabas School and St. Bartholomew School to form John Paul II Academy.
Parishioners reach out through mission trips to Guatemala, eastern Kentucky, and West Virginia. Their caring, welcoming spirit extends to the community at large. The founding parishioners and priests planted seeds of faith that took root. After fifty years of leadership, sacrifice, cooperation, and caring, the faith of the parish has taken wing, and the St. Pius community of more than 2,300 looks forward to a future filled with hope.