Walking the Journey with the People of God
By Father Michael Martin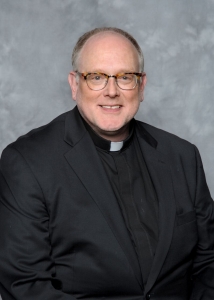 Father Michael Martin was ordained to the priesthood on May 27 at the Cathedral of the Assumption.
Looking ahead to the Priesthood
I have been blessed all my life to have to wonderful parents, who are now both deceased, but who raised me in a good home and with a Catholic education.  I attended Catholic grade school and Catholic high school, both in Indianapolis, Indiana.
So for me, I had always thought of priesthood in the back of my mind.  In fact, I can still remember when I was 8-years-old, telling my Aunt that I was going to be a priest when I grow up.  (It takes me a little longer than most…ha).
I am truly blessed to be a priest.  For me, when I think of my priesthood: I am looking forward to being with the people and walking with them on their journey in life.  Each person's life journey is different from the next, and no two days are the same.
I think for me, I am looking forward to celebrating the Holy Mass with the people, and celebrating the sacraments for the people. It is truly an honor and a blessing ministering to God's people, and I must say in return that they also minister to me. I cannot think of anything else that I would rather be doing than offering God's mercy to someone, as His instrument in the confessional or bringing someone into the Church by baptism.
As a priest, I will have the awesome responsibility to be with people in times of great joy: births, baptisms, weddings, and also in times of great sorrow: funerals, anointing of the sick.  These are just a few of the ministries that I will do as a priest for God's Holy Church.  I have truly been blessed that God called me to the priesthood.  One thing for sure: God never gives up…There is always time to say, YES to the Lord!
Looking back on Seminary
When I entered the seminary in 2010, I went into it with a steadfast feeling that I was there to become a priest.  However, as the seminary staff tells each seminarian on arrival; "You are not here to become a priest. You are here to see if God is calling you to become a priest." These are the same words echoed by Archbishop Kurtz.
Entering seminary was exactly where I was supposed to be, and it gave me the time to truly discern if this truly was God's will for me.  Soon after entering, I had a spiritual director that I would meet with each month to help me see how God was working in my life, and this helped me grow into a much deeper and prayerful person.
The many gifts in seminary are abundant if you take advantage of them. I was able to attend daily Mass, partake in the rosary each day, and one of the most prayerful times for me was when I spent time in front of the Blessed Sacrament.  This is something I was able to do each day. We also had an opportunity to pray the Liturgy of Hours each day. All these wonderful experiences would not have been open to me as a layperson.  Being in seminary gave me the tools and opportunity to be able to truly discern a life of a priest and to see if this was where God wanted me to be.
I can honestly say that it was a wonderful journey. To be able to take the time each day to be in prayer and in quiet reflection and to have had the opportunity to meet with a spiritual director each month was a gift.  This is something that most people do not have a chance to do, but in seminary the seminarians have this at their fingertips.
I was truly blessed that the Archdiocese of Louisville gave me the opportunity to see if God was calling me to the holy priesthood.  I look forward to serving the people of the Archdiocese wherever God calls me to be.
May God continue to bless every one of you!  Please know that I will keep you in my prayers and please keep me in yours.