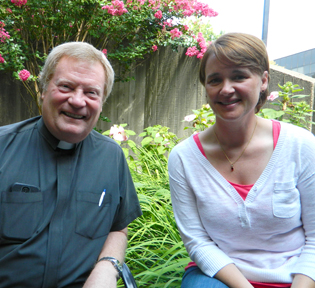 By Sarah Fellows
You walk a lot on a college campus. 
I was little older than a college student when I became campus minister at the University of Louisville 14 years ago.  I spent my first few days walking around campus to refresh my memory of what it was like to be a student.  Recently, I got to make that same walk with our new chaplain, Fr. Chuck Walker.  It seems fitting we began this new, exciting journey walking around campus together.
Reflecting on my time with Catholic campus ministry, I see campus tours are just a peek into the world that is real for those on this part of their life journey.  Young adults can be an illusive bunch in parishes – but on campus it's a different story.  We get the moments of every day, every struggle, every thrill, and every story.  It is a gift.
Much has changed in 14 years.  Students overall (I am generalizing based on my experience) tend to be more driven, more stressed, and more connected to the outside world.  They care about their faith but find that a million distractions can make it difficult.  They have grown somewhat more accepting of authority in recent years, but just who or what they consider authority can vary widely. 
Of course, young adulthood is young adulthood no matter the generation, so some things (I believe) are unlikely to change.  They like to help other people, they want to make a difference, and they care deeply for their friends and family.  They seek a meaningful connection with God, even if they have no words for that need. 
It is most often that need that calls us to walk.
This walk is one of utmost importance to campus ministry – I suspect to many ministries.  Campus ministry does not ask us to point in a direction or shout from a distance – it requires us to pull up beside students and settle in for the journey.   Since I began, the most important thing I think I have done is get to know students, be a part of their lives, hear their stories, challenge them, love them, and help them to discover that God is everywhere in that. 
I reflect on many lives that I have been invited into at various parts of their journeys.  The gifts of pain and despair, joy and questioning that I have been given as we walked together.  Just a few weeks ago, I was sitting in a coffee shop with Erica when she got the call offering her the job of her dreams.   In that moment, I was profoundly aware of God's grace.  I had walked with Erica through so much before this moment, and all of it spoke of God's desire to never, ever let us walk alone. 
A new full-time Catholic campus ministry chaplain who brings a particular gift for caring about people is more opportunity for us to enter into the journey of these young adult lives.
There's a lot of walking to do.