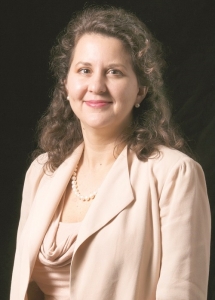 By Lisa DeJaco Crutcher, CEO of Catholic Charities
At this time last summer, I was a busy law firm partner with a thriving litigation practice. But for a year or so, I had been hearing a quiet but unmistakable message: "Everything has a season, and the season for this is ending." My first reaction (and second, and third) was to wonder what on earth I could or should do other than what I was already doing: I had exactly the job I had planned when I graduated from UVA Law School in 2000, and law school had been in my plans for a decade before that.
Rather than trying to think of my own answer, I decided that the best thing I could do was sit with the question. Whenever that message came to me, rather than putting myself to work at puzzling out the right solution, I simply allowed myself to pray, "Here I am, Lord. I want to do Your will." I found myself in conversation after conversation with people who were, all unawares, giving me directions and holding signposts that slowly but surely began to fill in the map for me. In August 2016, The Record first ran an advertisement seeking a new chief executive for Catholic Charities. I cut the ad out of the paper and carried it around with me for a month, pulling it out from time to time and asking, "Is this for me?"
Throughout Advent, I was talking with the Archdiocese about the Catholic Charities position and seriously debating whether I was ready to leave the legal career I had studied for, trained for, and worked to build for myself. The Gospel one Sunday was the story of Saint Joseph, who dreamed about an angel telling him not to be afraid to take Mary as his wife. When Deacon Trey Mobley preached the homily at my parish (Saint Agnes), he asked the congregation to consider whether we were busy living our own dreams, or if we were open to being part of God's dream for the world. With that challenge, I knew that it was time for me to set aside the life I had dreamed for myself, and step forward to take part in God's dream instead.
Since joining Catholic Charities in April, I've relied on God every day. I had come to a point in my legal profession where I was comfortable that I knew what to do in my job. Even when I have lots more experience under my belt at Catholic Charities, I'm not sure that will ever happen. (I have taken to joking that I'm keeping notes for a memoir I'll title It's Always Something.) But I love that uncertain feeling, because every day, I'm reminded that this job was God's idea for me, not my own; it's His agency, not mine, and He will show me what to do as long as I remember to keep bringing Him the question.