Reverend Timothy A. Hogan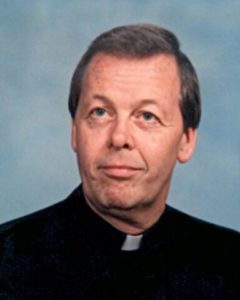 Date of Birth: February 21, 1939
Date of Ordination: May 14, 1966
Date of Death: October 15, 2017
Reverend Timothy A. Hogan, a retired priest of the Archdiocese of Louisville, died on October 15, 2017, at the age of 78. Father Hogan, a native of Louisville, was baptized at Our Mother of Sorrows Church in Louisville and attended Christ the King for elementary school, Flaget for high school, and Marynoll College in Glen Ellyn, Illinois for part of college. Father Hogan completed his seminary education at Marynoll Seminary in Ossining, NY and Mt. St. Mary's Seminary in Norwood, Ohio.
Father Hogan served as Pastor at St. Philip Neri and St. Boniface, and as Associate Pastor of the following parishes: St. Gregory (Samuels), St. Basil, St. Patrick (Market Street), St. John (Louisville), and St. Martin of Tours (Louisville) before retiring in 2010. Father Hogan was also involved in campus ministry at Spalding College, served as Chaplain at the Nazareth Motherhouse and Carmelite Sisters Monastery, as Coordinator for Prison Ministry, as Associate Director for Boys Haven, as Director for Schumann Center, and as Executive Director for Catholic Charities and Catholic Relief Services within the Archdiocese of Louisville. He also served on the board of trustees for Catholic Charities USA over a twenty-year span. Father Hogan was very instrumental in the initial planning, development, and founding of Nativity Academy.
Father Hogan was pre-deceased by his parents, William and Catherine Hogan. He is survived by his siblings, Dr. Frederick W. Hogan and Barbara Ann Pavelka.
The concelebrated Mass of Christian Burial will be celebrated on Saturday, October 21, 2017, 11:00 a.m. at Saint Boniface Church, 531 East Liberty Street, Louisville. Visitation will be held at Bosse Funeral Home, 1355 Ellison Avenue, from 3:00-8:00 p.m. on Friday, October 20, 2017, and at the church Saturday morning beginning at 10:00 a.m.
Burial will be in Calvary Cemetery following the funeral liturgy.