Reverend Lawrence J. Gelthaus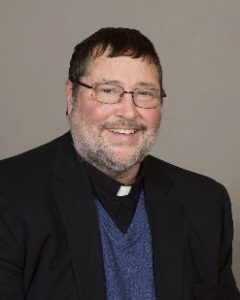 Date of Birth: April 26, 1957
Date of Ordination: May 28, 1988
Date of Death: December 22, 2017
Reverend Lawrence J. (Larry) Gelthaus, a priest of the Archdiocese of Louisville, died on December 22, 2017, at the age of 60. Father Larry, a native of Louisville, was baptized at St. Brigid Catholic Church in Louisville and attended St. Brigid for elementary school. He attended Woerner Junior High and Atherton High School. He graduated from the University of Louisville and completed his seminary education at St. Meinrad Seminary in St. Meinrad, Indiana. He was ordained to the priesthood by the Most Reverend Thomas Cajetan Kelly, O.P. at the Cathedral of the Assumption on May 28, 1988.
Father Larry served as Pastor at Christ the Healer, Edmonton and Christ the King, Tompkinsville (2007-2017), and as Pastor at Emmanuel, Albany and Administrator at Holy Cross, Burkesville (1994-2007). He was an Associate Pastor at St. Helen, Louisville (1988-1990), St. Francis of Assisi, Louisville (1990-1991), and St. Raphael (1991-1994). In 1992, Father Larry was named Co-Chaplain at Assumption High School, and the following year, Chaplain. He also served in Hispanic Ministry for the Tompkinsville Community from 2007-2017.
Father Larry was pre-deceased by his parents, Harry and Ruth Boesing Gelthaus. He is survived by his siblings, twin brother Father Harry Gelthaus, Stephen Gelthaus (Debby), Rose Michal, Janice Knoop (John), Terri Hogge (Allen) and Carol Grossman (Dan), and many nieces and nephews.
The concelebrated Mass of Christian Burial will be celebrated at 11:00 a.m. on Thursday, December 28, 2017 at St. Stephen Martyr Church, 2931 Pindell Avenue at Hess Lane. Visitation will be from 9:00-11:00 a.m. in Church.
Following the funeral liturgy, burial will be in Calvary Cemetery.