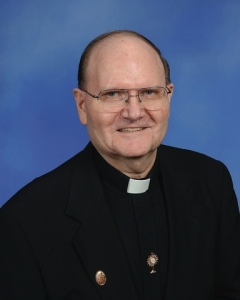 Reverend Lawrence H. Lindle
Date of Birth: September 5, 1932
Date of Ordination: May 23, 1959
Date of Death: September 10, 2016
The Reverend Lawrence H. Lindle, a retired priest of the Archdiocese of Louisville, died on September 10 at the age of 84.  Father Lindle, a native of Louisville, was baptized at St. Agnes Parish and attended both St. Agnes and St. Bartholomew Schools. He attended St. Mary's College in St. Mary, Ky. and St. Maur's Seminary in South Union, Ky.
Father Lindle had served as Associate Pastor of Guardian Angels Church, the former St. Matthias Church, St. Mildred Church in Somerset, Ky. and its missions, the Basilica of St. Joseph Proto-Cathedral in Bardstown, and St. Gabriel Church. Fr. Lindle was pastor of St. Paul Church, Immaculate Conception Church in Culvertown, and the former St. Mark Mission in Greenbrier, Ky.
Father Lindle also served as Director of the Sacred Heart Center and the Marian Center, positions he held until his death.
The concelebrated Mass of Christian Burial will be celebrated at 11 a.m. Wednesday, September 14 at St. Bartholomew Church, 2042 Buechel Bank Road, followed by burial in Calvary Cemetery. Visitation will be held at Ratterman and Sons, 3800 Bardstown Road from 2-8 p.m. on Tuesday September 13, and at the church after 9 a.m. on Wednesday.
Burial will be in Calvary Cemetery following the funeral liturgy.