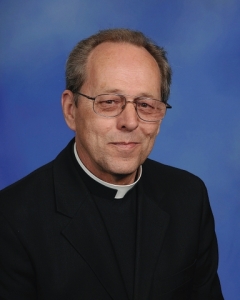 Date of Birth: February 5, 1944
Date of Ordination: May 16, 1970
Date of Death: July 2, 2016
The Reverend H. Anthony Olges, a retired priest of the Archdiocese of Louisville, died on July 2 at the age of 72.  Father Olges, a native of Louisville, grew up at St. Bartholomew Parish.  He had served as Associate Pastor of Saint Rita, Saint Pius X,  Saint Stephen Martyr Parishes, and the Cathedral of the Assumption and as pastor of Saint Polycarp, Saint Elizabeth of Hungry, Saint Vincent de Paul, Saint Therese, St. Denis, Holy Family, Saint Brigid, and Saint James Parishes before retiring in 2014.  Father Olges also served on the Planning Commission for the Archdiocese and as an Advisory Board member of Holy Cross High School.
The concelebrated funeral liturgy will be at Saint Bartholomew Church, 2042 Buechel Bank Road in Louisville on Wednesday, July 6 at 11:00 a.m.
Visitation will be at Ratterman Funeral Home, 3800 Bardstown Road, Louisville, on Tuesday, July 5 from 2 to 8 p.m. and at Saint Bartholomew Church prior to the funeral on Wednesday.
Burial will be in Calvary Cemetery following the funeral liturgy.