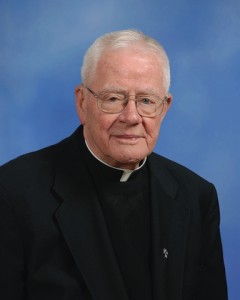 Date of Birth: December 10, 1925
Date of Ordination: June 3, 1950
Date of Death: June 23, 2015
The Reverend Roy Edwin Dentinger, a retired priest of the Archdiocese of Louisville, died yesterday afternoon at the age of 89.  Father Dentinger, who grew up in the Highlands, had served as Pastor of Saint Bernard (Louisville), Saint Brigid (Vine Grove), and Saint Jerome (Fairdale) Parishes before retiring.  Father served as Chaplain at Fort Knox and Chaplain of the Knights of Columbus.  He also worked at several offices at the Chancery, including serving as Chancellor in the early 1960s.
The concelebrated funeral Liturgy will be at Saint Brigid Church, 1520 Hepburn Avenue in Louisville on Monday, June 29th at 11:00 a.m.  Archbishop Kurtz will preside.
Visitation will be at Ratterman Family Funeral Home, 3800 Bardstown Road on Sunday from 2:00 – 8:00 p.m. and on Monday from 10:00 a.m.-11:00 a.m. at St. Brigid Church.
Burial will be in Calvary Cemetery following the funeral Liturgy.