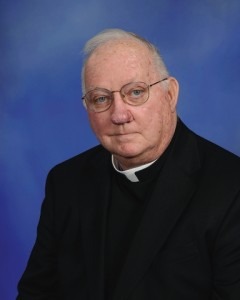 Date of Birth: August 3, 1931
Date of Ordination: May 31, 1958
Date of Death: May 3, 2015
The Rev. Charles J. Bindner, a retired Priest of the Archdiocese of Louisville, died Sunday, May 3, 2015 at the age of 83. Father Bindner was a chaplain in the U.S. Army, Purple Heart recipient, Pastor at Holy Family and St. Timothy, Associate Pastor at St. Clement, St. Barnabas, St. Christopher (Radcliff) and St. Helen, and Administrator pro tempore at St. Helen before retiring in 2001.
The concelebrated funeral Mass will be at Mary, Queen of Peace Church, 4005 Dixie Highway, Louisville, Kentucky on Saturday, May 9 at 11:00 a.m.
Visitation will be at Ratterman Family Funeral Home, 7336 Southside Drive on Friday from 2:00 to 8:00 p.m. and on Saturday from 10:00 a.m. to 11:00 a.m. at the Mary Queen of Peace Church.
Burial will be at a later date at Arlington National Cemetery.